In the past 14 years, Xindun has provided solar power products and services to more than 100 countries around the world.
We provide dc to ac power inverter customized services for thousands of solar traders. We have rich experience in serving below customers:
Solar Installation Companies
Electricity Companies
Energy Companies
Building Materials Companies
Commercial and Industrial Companies
Farm
Shipping Companies
RV Companies
Project Contractors
In the future, we look forward to establishing long-term cooperative relations with more new friends.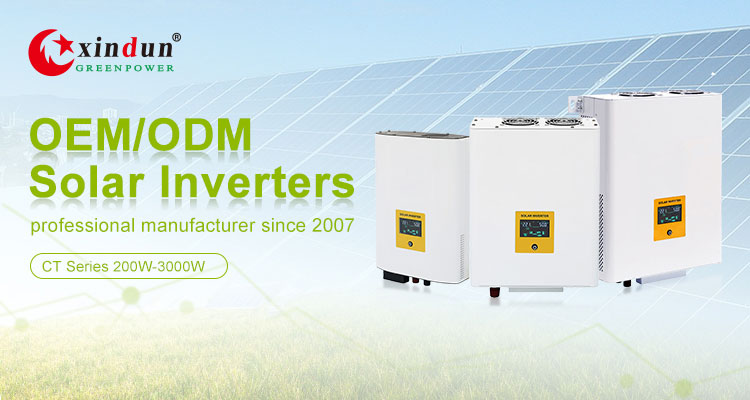 ■ DC to AC Power Inverter Feature
---
1 Power inverter pure sine wave output, Excellent load adaptability and stability
2 DC input and AC output are separated for safe electricity utilization
3 Integrated PV charging and discharging function makes the system configuration easier
4 Ntelligent battery charging and discharging management function extends the life of battery
5 DC output supportive brings in more convenience
6 LCD display provides a visual user\'s experience
7 Perfect protection against overload, overheating, overvoltage, undervoltage, short-circuits and etc
8 RS485 communication port is optional for the user\'s integrated management
■ DC to AC Power Inverter Specification
---
Specification

Model: CT

80112/24

10212/24

15212/24

20212/24

Rated Power

800Watt

1000Watt

1500Watt

2000Watt

Battery Voltage

DC 12Volt/24Volt

Size(L*W*Hmm)

330x260x115

Package Size(L*W*Hmm)

410x318x175

N.W.(kg)

6.4

6.4

6.4

6.4

G.W.(kg)(Carton Packing)

7.4

7.4

7.4

7.4

Installation Method

Wall-Mounted

Input

DC input voltage range

10-15VDC (single battery voltage)

Voltage of the battery




switched on automatically

≥11V (single battery voltage)

Ouput

DC Output

12V*3+5V*1

Output voltage (battery mode)

110VAC±2%/120VAC±2%/220VAC±2%/230VAC±2%/240VAC±2%

Output frequency (battery mode)

50/60HZ±1%

Efficiency

≥85%

Output wave form

pure sine wave

Solar




controller

PV charging mode

PWM

PV charging current

50A

Max PV Input Voltage(Voc)




(At the lowest temperature)

50V

Max PV input power

700W(12V System)/1400W(24V System)

Battery




Charging

Floating charge

13.8V(Single battery)

Charge voltage

14.2V(Single battery)

Overcharge protection voltage

15V(Single battery)

Battery type

Valve Regulated Lead Battery

Protection

Battery undervoltage alarm

10.5V±0.5V(Single battery)

Battery undervoltage protection

Inverter output: 9.5V±0.5V; DC output: 10.5V±0.2V(Single battery)

Battery over voltage protection

15V±0.5V(Single battery)

Ouput undervoltage protection




(Battery mode)

≤187VAC Turn off the output

Output short circuit protection




(Battery mode)

Shut down output, disconnect battery current

Over power protection

110% more than rated capacity

Temperature protection

≥90℃ machine shut off

Display

LCD

Thermal method

Cooling fan in intelligent control

Communication

RS485(Optional)

Environment

Operating temperature

-10℃~+40℃

Storage temperature

-15℃~60℃

Noise

≤55dB

Highest altitude

2000m(More than derating)

Relative humidity

0%~95%(No condensation)

Note: All specifications are subject to change without prior notic

e
■ DC to AC Power Inverter Details
---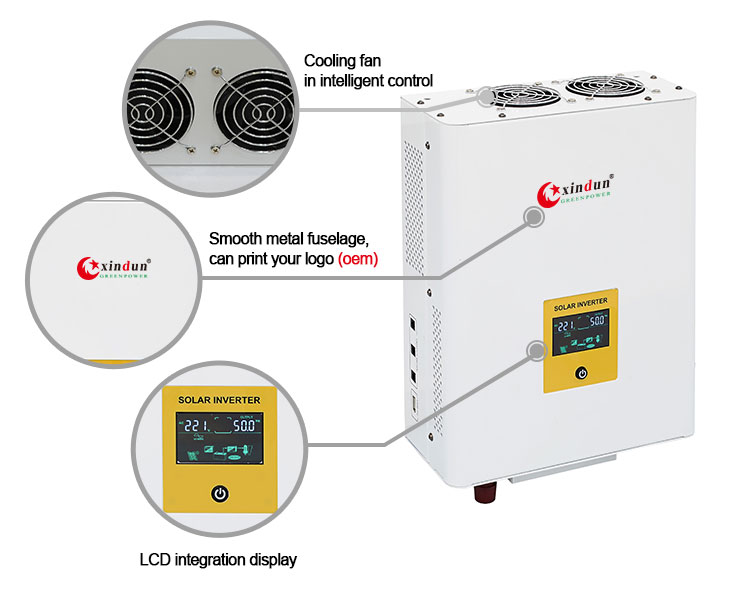 ■ DC to AC Power Inverter Wiring Diagram
---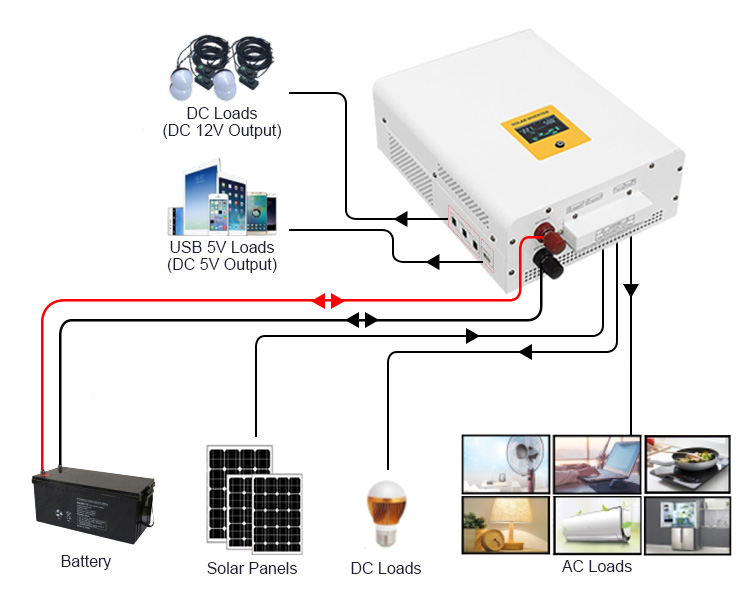 ■ DC to AC Power Inverter Application
---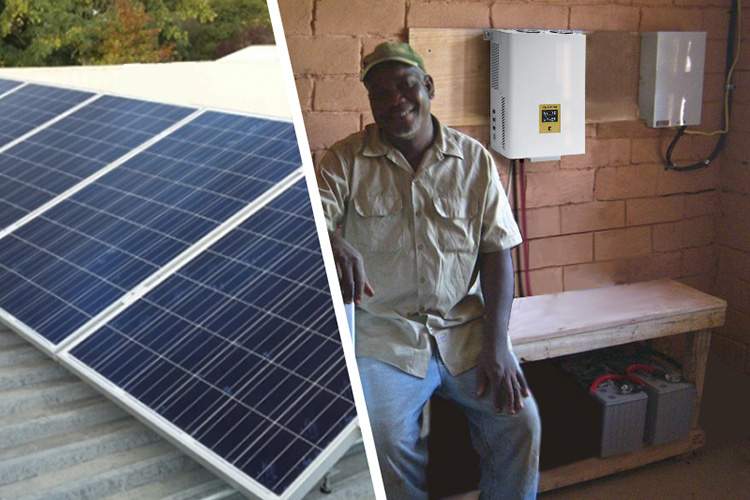 ■ Inverter Package and Delivery
---
to be added..
■ Why Choose Us?
---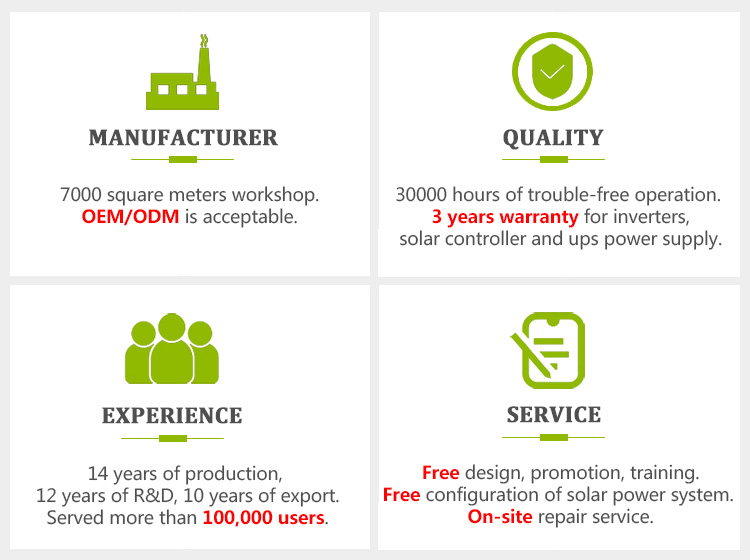 ■ About Xindun Power
---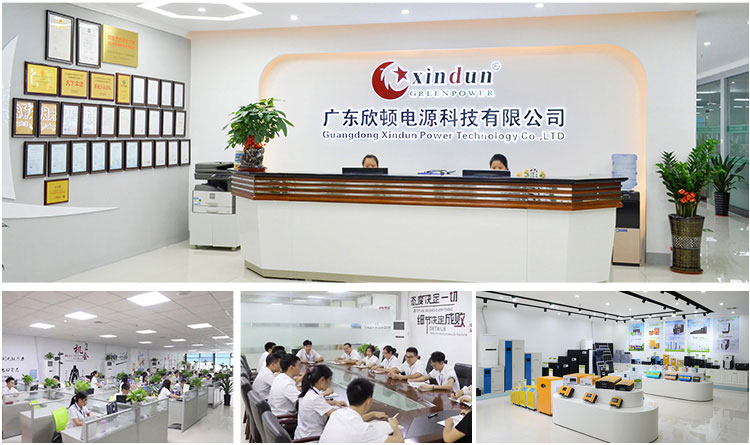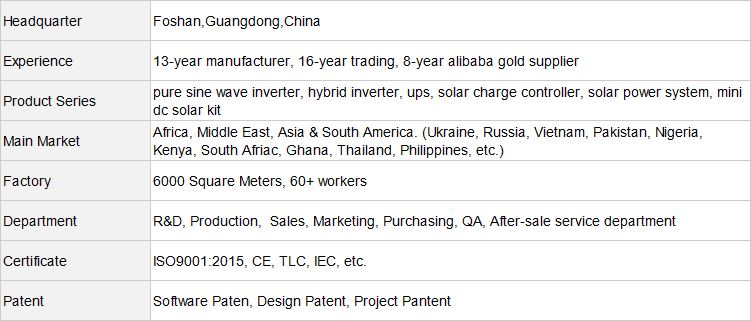 ■ Inverter Factory
---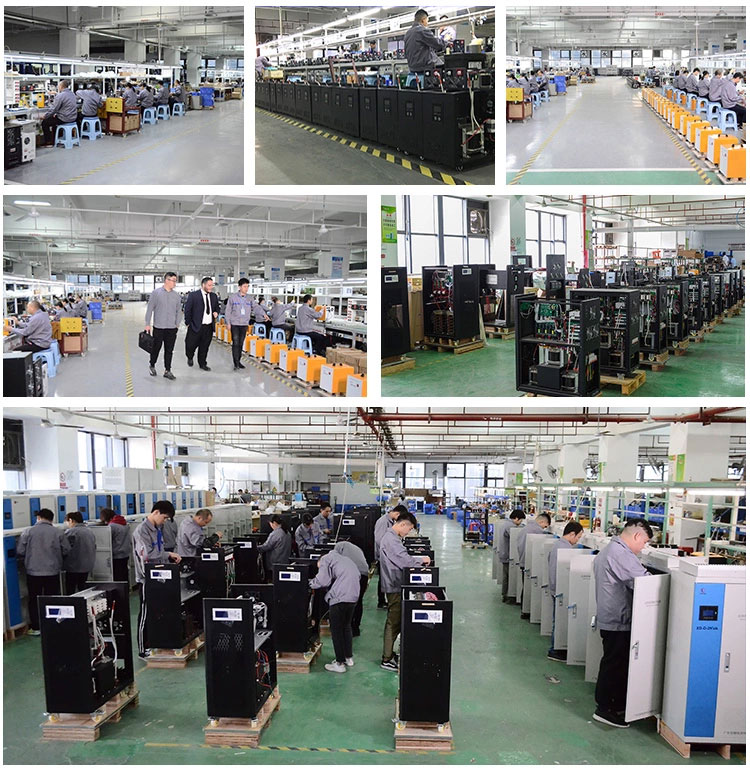 ■ Qualifications and Certificates
---

■ Global Solar Exhibitions
---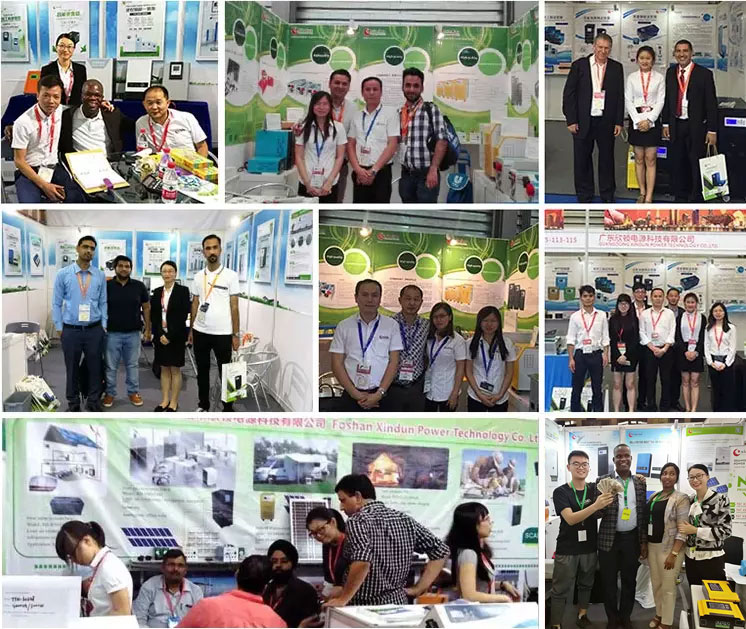 ■ FAQ
---
Q1: Are you a factory?
A: Yes, we are the top 10 power supply manufacturers in China, with over 7000 square meters production area. We focus on inverters, solar charge controllers, solar generators and solar power system solution. We cooperate with some famous brands all over the world, can provide customized production or add your logo on products.

Q2: What is the price of dc to ac power inverter?
A: Tell me your requirements, such as power, voltage, charging current, quantity, and whether there are other functional requirements. We will give you the most favorable ex factory price. Power inverter factory direct sales, no middlemen earn price difference.

Q3: What type of inverters do you produce?
A: We produce various types of inverters: pure sine wave inverters, off-grid inverters, on/off grid inverters, solar hybrid inverters, single phase inverters, 3 phase inverters, low frequency inverters, high frequency inverters, etc. Don't know which type of inverter to choose? Contact XINDUN now!

Q4: What\'s the difference between solar inverter and hybrid inverter?
A: Inverter is design to convert DC (Direct Current) into AC (Alternating Current). Both solar inverter and hybrid inverter are widely used in PV solar energy into electric energy. Hybrid inverter contains the function of a solar inverter, also adds a built-in solar charge controller. Also it can be a combination of off grid and grid tie inverter in one machine with same description as you called hybrid inverter.

Q5: How to solve the dc to ac power inverter technical problem?
A: We will provide market and product training services, 24 hours after-service consultancy just for you and to make your problem to solveeasily.