The inverter converts direct current into alternating current, and the alternating voltage converted by the 3 phase inverter is 3 phase, namely AC380V. 3 phase electricity is composed of three alternating electric potentials with the same frequency, equal amplitude and 120° phase difference. It is mainly used for uninterruptible power supply systems in the military, communications, factories and enterprises.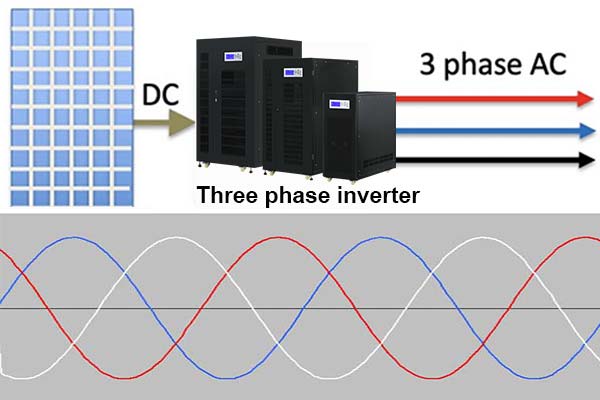 Compared with single phase inverters, 3 phase inverters have the following advantages:
1. Higher output voltage can drive more powerful electrical appliances.
2. 3 phase inverter can provide better voltage level and higher safety.
3. The instantaneous power of the 3 phase inverter is more stable.
4. The higher the voltage used, the cheaper the electricity bill. That is to say, at the same cost, the transmission capacity of a 3 phase inverter is stronger than that of a single-phase inverter.
Xindun 3 phase inverter features:
1. Wide range of applications: Xindun 3 phase inverters are not only suitable for home power backup systems, but also for industrial and commercial power stations.
2. Support 3 phase unbalanced load, triple peak power, pure sine wave output.
3. Wide input voltage anti-disturbance range, adapt to harsh grid environment.
4. The output protection function is complete, with overvoltage, overload, overheating, short circuit, overcurrent and other protection functions
If necessary, please contact us.