A complete solar system consists of off-grid solar inverters, solar controllers, photovoltaic panels, batteries and other parts. Photovoltaic panels are used to convert solar energy into electric energy, battery stores direct current, solar controller controls photovoltaic panels to charge the battery and the battery to power the solar inverter load, plays the role of overcharge protection and overdischarge protection to the battery, off-grid solar inverter is responsible for converting direct current into alternating current.
Hybrid inverter is a combination of inverter and solar controller. With hybrid inverter, there is no need to configure an additional solar controller, reducing the cost of the solar controller case, transportation and packaging, and reducing the overall cost.
Working mode of solar inverter with built-in MPPT charge controller: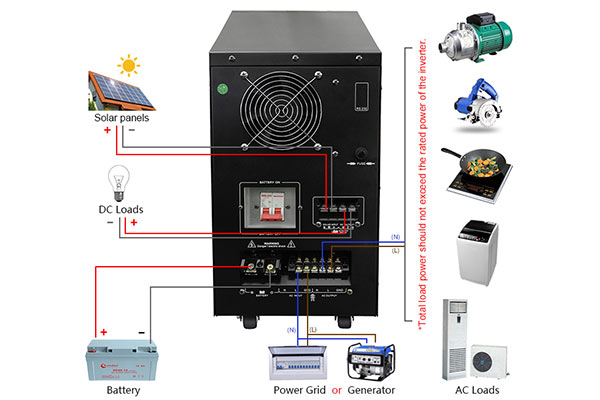 Xindun off grid solar inverter with MPPT built-in(hybrid inverter) combines intelligent control function, charging function, inverter function and output voltage stabilization function, suitable for solar power frequency off-grid power generation system and home, outdoor, engineering, supermarket Uninterrupted power supply for, industrial, commercial, bank and other occasions. Xindun is a power supply company with a history of 14 years, with diverse products and complete services. If you have any questions about power supply, please contact us.