This article is a professional answer from Xindun Power to the question of "how to connect solar panel to home appliances".
Most of end users don't know how to use solar power and how to connect solar panel to home appliances.They need AC power to supply for home appliances.Here we will do some explanation and give some instruction.
The current from solar panels is DC current and it means DC power from solar panels. And most of home appliances are used with AC power.So there is conventor from DC to AC power for use. Then we call it DC-AC solar inverter. So below is the diagram for explaination about off-grid solar power system: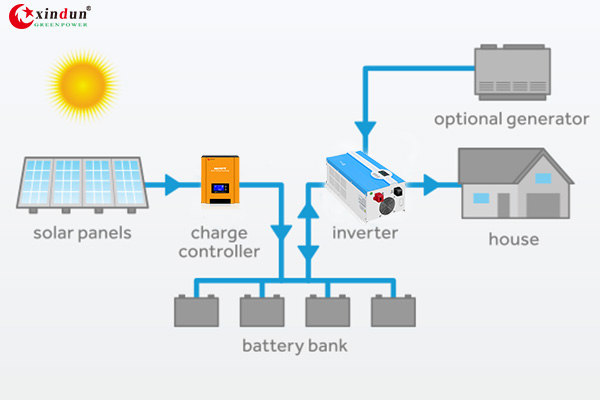 Solar charge controller is connected with solar panel.And solar charge controller charges battery and battery DC power is converted to AC power though solar inverter.Then the AC power from inverter will be supplied for AC home appliances use. Solar charge controller can be builtin inverter but the principle is same.
It is very important to know how to connect solar panel to home appliances. Most of our home use off grid solar systems. Off grid inverters must be connected to an appropriate number of solar panels to increase power generation and make full use of solar energy resources. Inverter or solar inverter is key part(equipment) in solar power system. This is very important for running the system well.Xindun Power mainly focuses on the manufacturing and design of off grid inverters for more than 16 years. Welcome to contact us for the latest technical knowledge.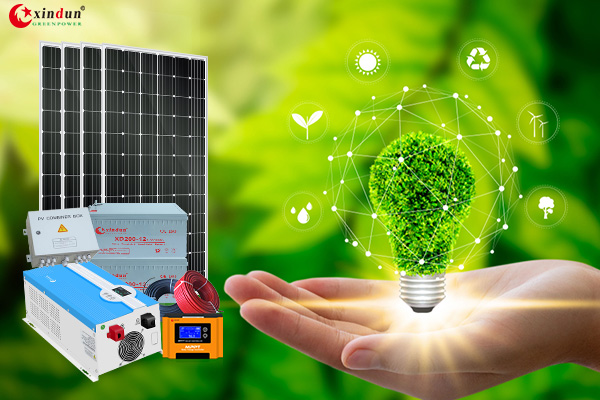 Xindun Power Company has a 10000 square meter solar inverter factory, which has passed the CE and ISO 9001 certification. In the past few years, our inverters have been exported to more than 61 countries, and have provided solar systems for 69 projects worldwide, because our technicians are very familiar with how to design, configure and install the entire solar power system.
Choosing Xindun Power can ensure the high quality of products and perfect after-sales service system.