First of all, we need to know the difference between single-phase and three-phase electricity. From the perspective of waveform, the difference is as follows: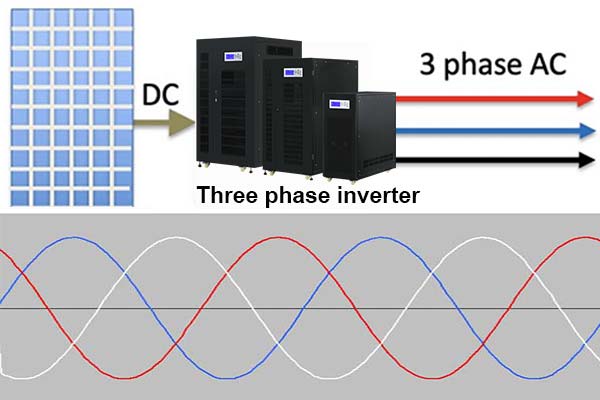 1. Definition:
Three-phase electric: three-phase ac power supply, it consists of three same frequency, amplitude, phase difference of 120 ° to each other in turn equal electric potential of ac power supply.
Single-phase electricity: single-phase electricity is the form of power transmission formed by a phase line (commonly known as fire line) and a zero line.
2. Advantages of three-phase electricity over single-phase electricity
1) From the perspective of use, the three-phase electric voltage is higher, which can drive the high-power electric appliance. For example, the three-phase electric can drive the squirrel cage induction motor. This kind of clickable structure is simple, convenient to maintain and manufacture, durable, and has important USES in industry. Second, there are more voltage options when three-phase electricity is used, because three-phase electricity can be used to generate single-phase electricity, while single-phase electricity cannot be used to generate three-phase electricity.
2) From the security perspective, three-phase power can provide a better voltage grade, relatively safe, assuming that the voltage is 380 v, if is single phase is 380 v is a thread, a thread is 0 v, but if is three phase, two wire is 220 v, reduced voltage grade, in insulation, wire diameter and a series of security issues have advantage.
3) from the perspective of physics, single-phase instantaneous power curve is undulating and not stable enough, while the instantaneous power of three-phase motor is a straight line, equivalent to average power and relatively stable. Furthermore, since the three phase potentials are 123 degrees different from each other in a single phase, 4 can transmit three times as much single-phase energy as it does for this reason.
4) From an economic point of view, the higher the voltage used, the cheaper the electricity charges. For home, if it is a single-phase power generation, the country is the same to build transmission towers, the same to dig cable trenches, and the cost of three-phase transmission is similar, but the efficiency of three-phase transmission is much higher, at the same cost, three-phase power transmission capacity is stronger than single-phase.
3. Comparison of three-phase grid connected power generation and single-phase grid connected power generation
Three-phase grid-connected power generation is a three-phase grid connected by inverter, while single-phase grid-connected power generation is a single-phase grid connected by inverter.
| | | |
| --- | --- | --- |
| | Three-phase grid | Single-phase grid |
| Applications | Ground power stations, commercial power stations, user power stations | User power stations |
| Power density | High | So-so |
| The cost of cable | Low | High |
| The power quality | High | So-so |
| Power utilization | High | Low |
| Impact on the grid | Low | High |
From the comparison of the above tables, it can be seen that the three-phase off grid power generation system is widely used, the inverter power density is high, the output power quality is good, the three-phase balance has little impact on the grid, the grid burden is light, the power utilization rate is high, it will be more and more applied to the power generation system in various occasions, for this reason, Xindun as a gold supplier, introduced a new series of low-power three-phase photovoltaic grid-connected inverter, for the household grid-connected system provides a new, intelligent new concept solutions.