What's hybrid inverter? What is the difference between it and ordinary inverter?
We all know that off-grid solar photovoltaic power generation systems are mainly composed of solar panels, battery packs, solar controllers and off-grid inverters. Among them, the solar controller is responsible for regulating and controlling the generated electric energy and protecting the battery, and the off-grid inverter is responsible for converting direct current to alternating current for use by the alternating load. Hybrid inverter is a device that integrates the inverter and the controller. One machine has two functions and can complete the work of a normal inverter + controller.
Connection steps:
1. Connect the battery: Determine the appropriate number of battery cells according to the inverter\'s rated battery voltage, and do not connect the positive and negative poles reversely.
2. Connect the load: Turn off all loads first, do not reverse the polarity of the load, and ensure that the load is lower than the inverter\'s rated power.
3. Connect PV

4. Connect to mains: Disconnect the power grid switch first, and do not reverse the polarity.
The following figure is 5 kw hybrid solar off grid inverter wiring diagram: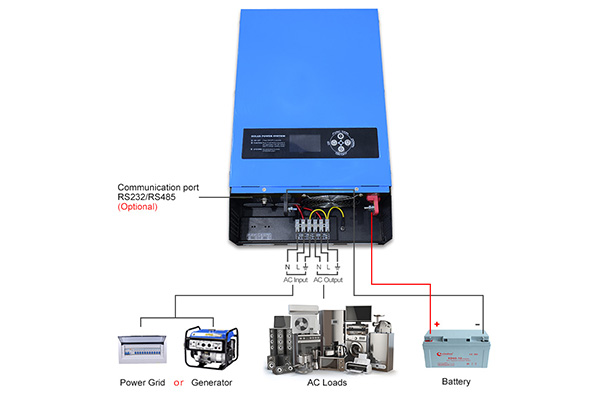 Xindun 5 kw hybrid solar off grid inverter, pure sine wave output, complete protection function, reliable quality, welcome to inquire.