All low-frequency inverters require transformers,compared to other kinds of transformer,we normally use toroidal transformer for our single phase inverter. What are the advantages for using toroidal transformer?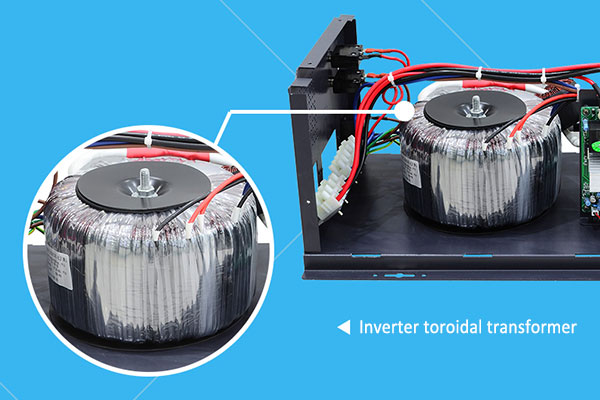 1.Low loss, high efficiency, there is no air gap in the iron core, pile pieces coefficient can be up to more than 95%, iron core permeability can be 1.5~1.8T(laminated core can only be 1.2~1.4T), electrical efficiency is up to more than 95%, no load current is only 10% of the laminated type. Using toroidal transformers can improve the inverter efficiency of the inverter;
2.Small size,light weight.The weight of the toroidal transformer can be only half of the laminated transformer. As long as the cross-sectional area of the core is equal, the toroidal transformer is easy to change the length, width and high ratio of the core, and the shape size can be designed to meet the requirements. Using toroidal transformers can make the inverter lighter and easier to carry;
3.The toroidal core has no air gap, and the electromagnetic noise and electromagnetic interference of the toroidal transformer are less than the traditional transformer.
4.Low vibration noise.The toroidal transformer core has no air gap, which can reduce the noise caused by the induced vibration of the core.The winding wraps tightly and evenly around the toroidal core, effectively reducing the buzz caused by magnetostriction. Using toroidal transformers can reduce the operating noise of the inverter.
5.Low operating temperature.The toroidal transformer\'s iron loss is very small, the core temperature rise is low, the heat dissipation of the winding in the lower temperature of the core is good, so the transformer temperature rise is low.
The above are the advantages of
using toroidal transformer for inverters
. Any question pls contact xindunpower.