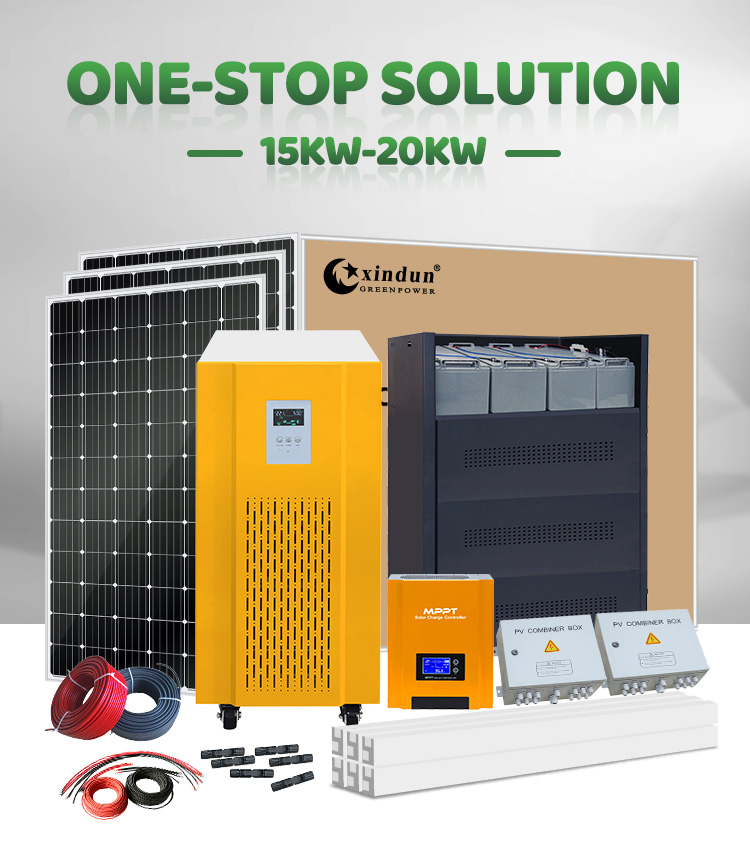 Choose XINDUN best residential solar systems, you can get the following convenience:
· Complete solar solutions including all components.
· Professional configuration.
· Time-saving on the selection.
· Convenient after-sales maintenance: solar panels, batteries, hybrid solar inverter, all duties to one company.
· Factory wholesales best residential solar systems at cheap cost.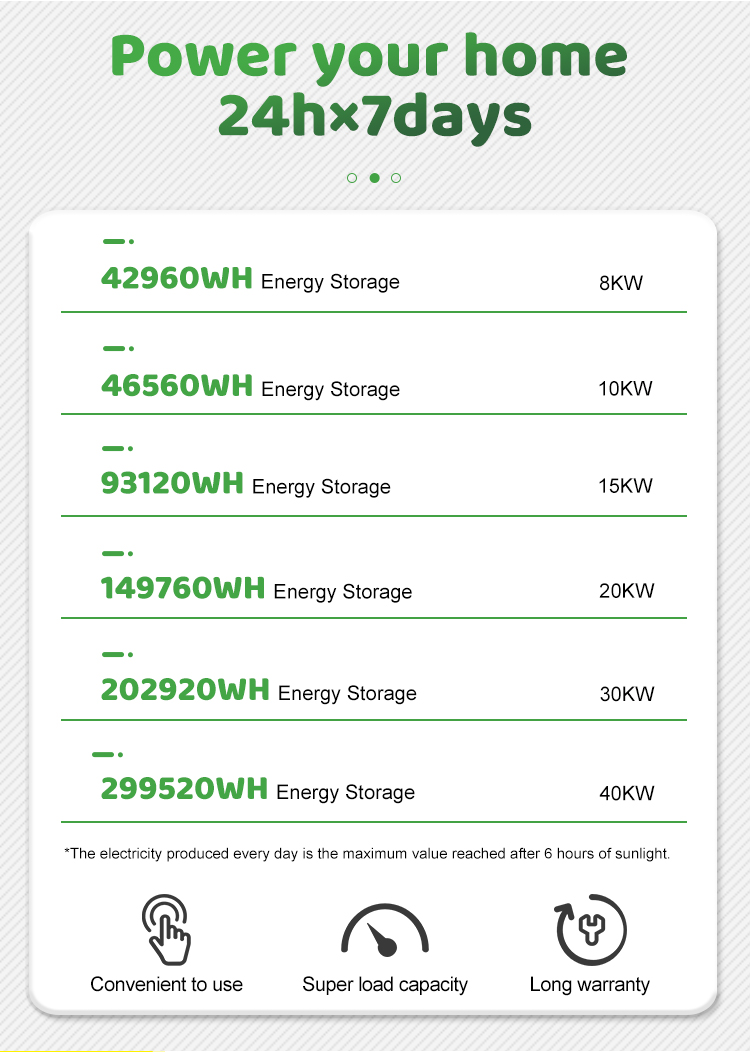 ■ Best Residential Solar Systems Description
---
Xindun best residential solar system is the most complete configuration on the market, which includes all necessary components: solar panel, solar bracket, PV combiner box, solar battery, solar inverter, solar charge controller, pv cables, battery cables and other terminals. After the simple installation is complete, it can be directly used for residential appliances.

Each set residential solar system has power on&off test 100 times per hour. Each step of production is under strict quality control. Perfect protection: short circuit, over-voltage, low-voltage, overload, insulation resistance, high temperature protection.

Xindun residential solar system range is from 300W to 100KW. We provide customers with free solar solution design and can accept customization. This page introduces the 20kw solar system with battery storage, which can be used for ac loads with total power not exeed 20kw.
■ Best Residential Solar Systems Configuration
---
SESS203W 20KW Solar System Configuration

Brand

Xindun

Model No.

SESS203W

Inverter Rated Power

(

KW)

20

Maximum Load(KW)

20

Batter Capacity

6400AH

Solar Panel Power(W)

12480

Product No.

SESS203W

Certification

CE

Sunshine Duration

6

Output Voltage




(Optional)

220V

Frequency




(Optional)

50Hz/60Hz

PV daily generating capacity

(

Wh

)

74880

Actual Load

(

KW)

20

Actual Load day(s)

1

Actual Load time(hours)

3.7

G.W.

3998

Volume

6.52

20GP Loading Quantity

Contact Xindun

N.W.

Contact Xindun

DC Voltage(VDC)

192

Customized or not

YES
Configuration Details

Product Name

Specifications

Quantity

Remark

Solar Panel

Monocrystalline 390W

32

8pcs in series

,

4groups in parallel

Solar inverter

192VDC 20KW

1

WD-203192

Solar Charge Controller

192VDC 100A

1

MPPT Solar Charge Controller

Lead acid battery

12V200AH

32

16 in series

,

2 in parallel

Battery connecting cable

25mm² 60CM

31

connection between batteries

solar panel mounting bracket

Aluminum

4

Simple type

PV combiner

2in1out

2

500VDC

Lightning protection distribution box

without

0

battery collecting box

200AH*16

2

32pcs batteries in one box

M4 plug (male and female)

28

28 pairs 1 in 1 out

PV Cable

4mm²

200

PV Panel to PV combiner

PV Cable

10mm²

100

PV combiner to MPPT

Battery cable

25mm² 20m/pcs

41

Solar Charge Controller to battery and PV combiner to Solar Charge Controller

Package

wooden case

1
Electrical Load Reference List

Electrical Appliance

Rated Power(pcs)

Quantity(pcs)

Working Hours

Total

LED bulbs

20W

15

8Hours

2400Wh

Mobile phone charger

10W

5

5Hours

250Wh

Fan

60W

5

10Hours

3000Wh

TV

50W

1

8Hours

400Wh

Satellite dish receiver

50W

1

8Hours

400Wh

Computer

200W

2

8Hours

1600Wh

Water pump

600W

1

2Hours

1200Wh

Washing machine

300W

1

2Hours

600Wh

AC

2P/1600W

2

10Hours

25000Wh

Microwave oven

1000W

1

2Hours

2000Wh

Printer

30W

1

1Hours

30Wh

A4 copier (printing and copying combined)

1500W

1

1Hours

1500Wh

Fax

150W

1

1Hours

150Wh

Induction cooker

2500W

1

2Hours

4000Wh

Rice Cooker

1000W

1

1Hours

1000Wh

Refrigerator

200W

1

24Hours

1500Wh

Water heater

2000W

1

2Hours

4000Wh

Total

50630Wh
■ Best Residential Solar Systems Wiring Diagram
---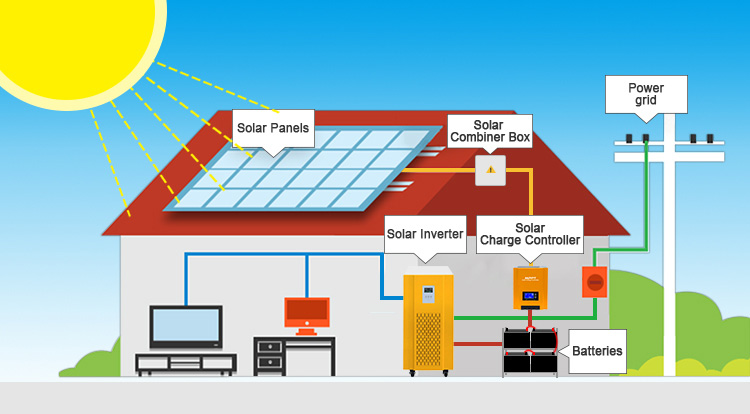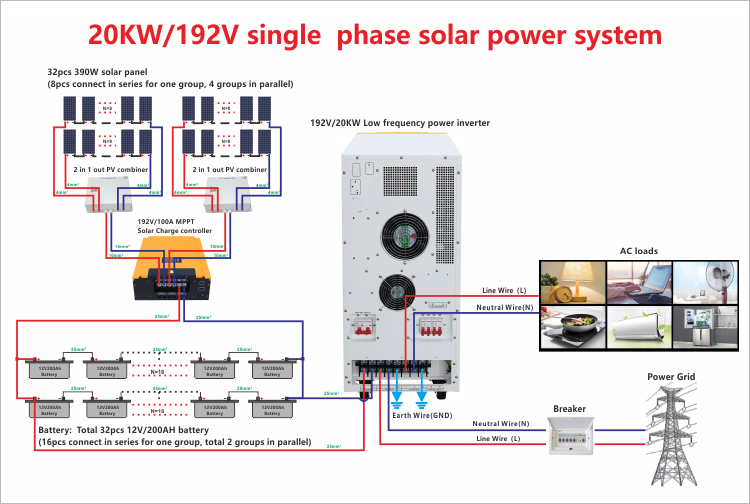 Contact XINDUN for more high-definition wiring diagram.
■ Best Residential Solar Systems Parts List
---
Mono Solar panel:

1. Front Glass: 3.2mm, Anti Reflection Coaring, High Transmission, Low Iron, Tempered Glass.

2. Frame: Anodized Aluminium Alloy.

25-years performance warranty.

12-years warranty on materials and workmanship.

MPPT Solar Charge Controller:

1. 192V/100A MPPT solar charge controller.

2. Advanced MPPT tracking, 99% tracking efficiency. Compared with PWM, the generating efficiency increase near 20%.
3. LCD display PV data and chart simulates power generation process.

Hybrid solar inverter:


1. 20KW hybrid solar inverter.




2. Low frequency pure sine wave output.

3. 3 times peak power, excellent loading capability.

4. LVD/HVD/Charging voltage adjutable, suitable for kinds of battery.

5. Automatic AC charger and AC mains switcher, switch time ≤ 4ms.

6. AC charging current 0-20A selectable.

Battery and battery collecting box:


1. GEL series battery is manufactured with special separators and silica gel immobilizing the electrolyte inside the battery.




2. The proven silica gel technology can improve battery cycle life and performance at wider temperature range.

3. The deep discharge cycle life is increased 50% compared with the GP series battery.

4. Battery collecting box not only makes the batteries collection and sorting more neat, but also plays a protective role

Solar bracket:


Description of Mounting




1. Aluminum Alloy 6005-T5.




2. Fasteners Material SUS304.




3. Easy Installation.




4. Can Be used in different forms,Tin Roofs,Flat Roofs.




5. The installation angle can be adjusted according to the demand.




6. 10 Years Warranty, Over 25 Years Service Life.

PV combiner box:

1. Multiple PV strings inputs.

2. Simplify wiring between solar panel and solar charge controller, protections to solar controller.




3. Wide range of DC input voltage.




4. Reliable thunderstorm & surge protection.

Cables and parts:

1. 4mm2 PV cable 200m, 10mm2 PV cable 100m. PV cable is a special type of cable used in solar power system. It has the characteristics of high temperature resistance and friction resistance, and has a long service life.

2. 25mm2 60cm Battery cable 31pcs (connection between batteries).

3. 25mm2 20m Battery cable 41pcs (connection "PV combiner box to solar charge controller" and "solar charge controller to batteries").

4. Terminals and 6 pairs MC4 plug.
■ Best Residential Solar Systems in Real Production
---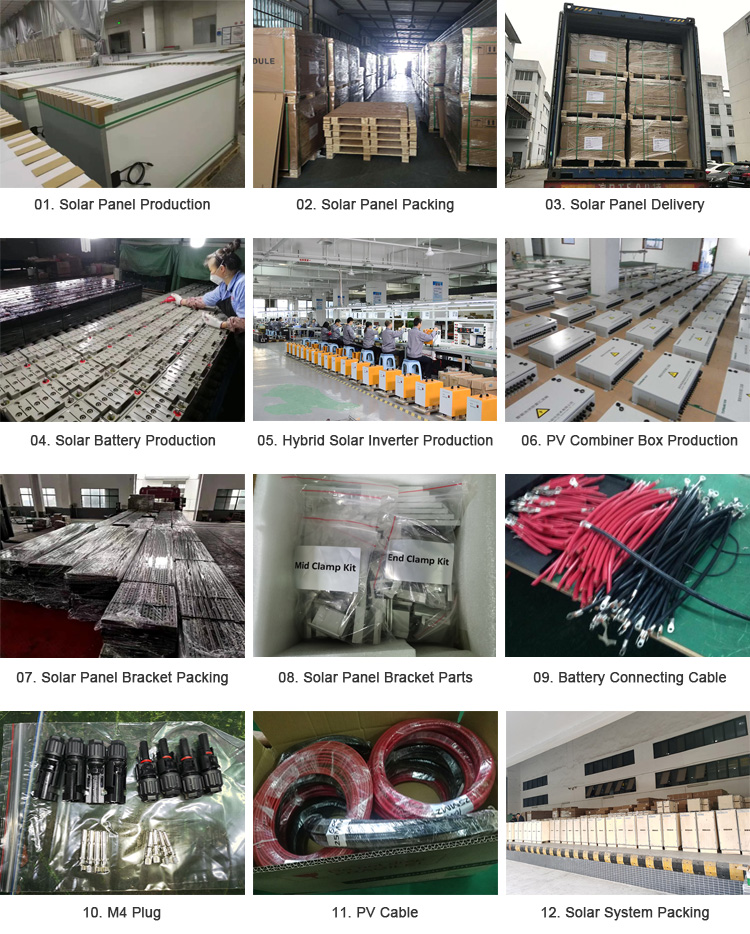 ■ Best Solar Systems Application
---
12kw solar system with batteries in Malaysia: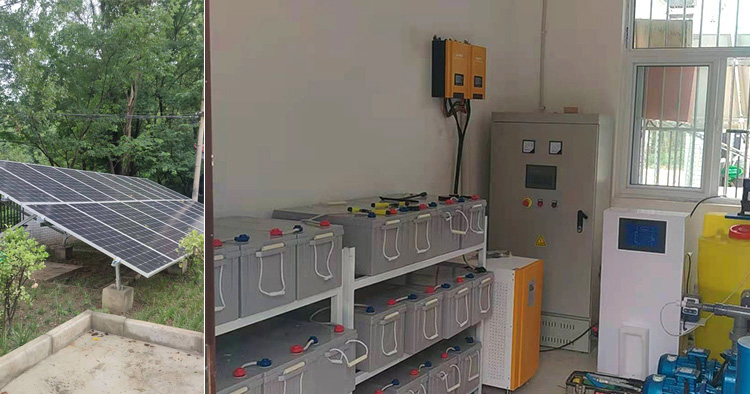 15kw solar system with batteries in china: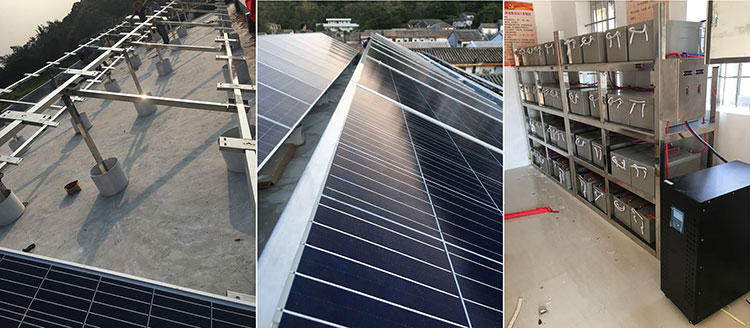 20kw solar system with batteries in Burkina Faso: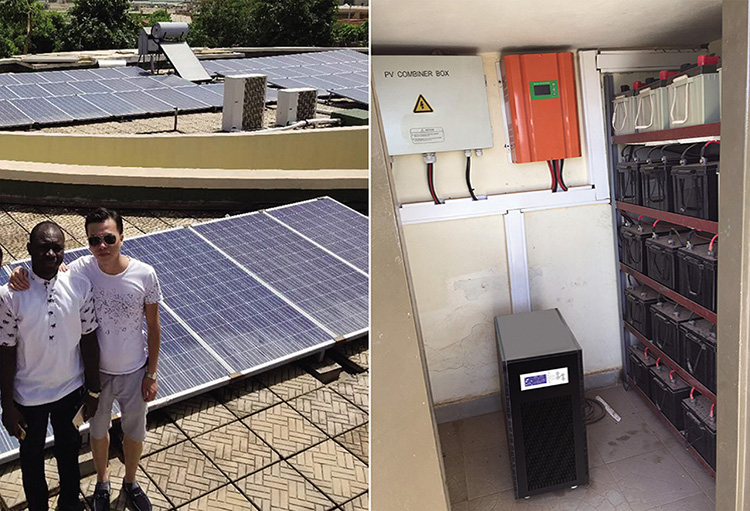 30kw solar system with batteries in Australia:

Xindun residential solar systems have been sold to more than 100 countries, such as Nigeria, Ghana, Egypt, Botswana, Zimbabwe, South Africa, Dubai, United Arab Emirates, Lebanon, Indonesia, Malaysia, Philippines, Columbia, Mexico etc. 20kw solar systems with batteries storage have been widely used for solar home house, solar camping, rv, solar school project, solar hospital project, solar farm project, solar hotel project, solar millitary project, solar energy water treatment equipment project, solar goverment project, hilltop, ship, etc.
■ About Xindun Power
---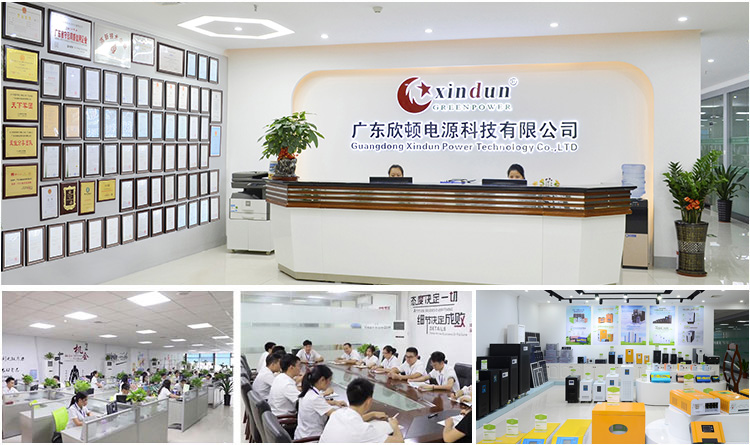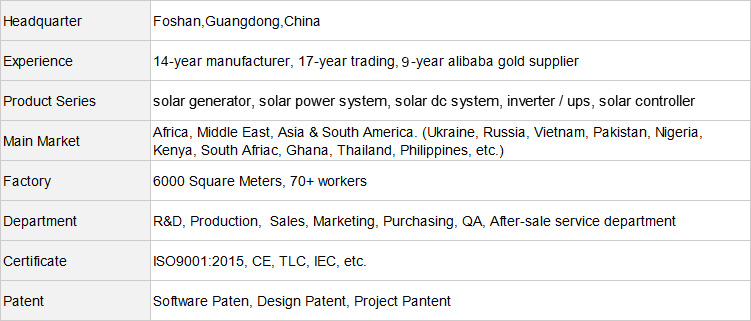 ■ Best Residential Solar Systems Factory
---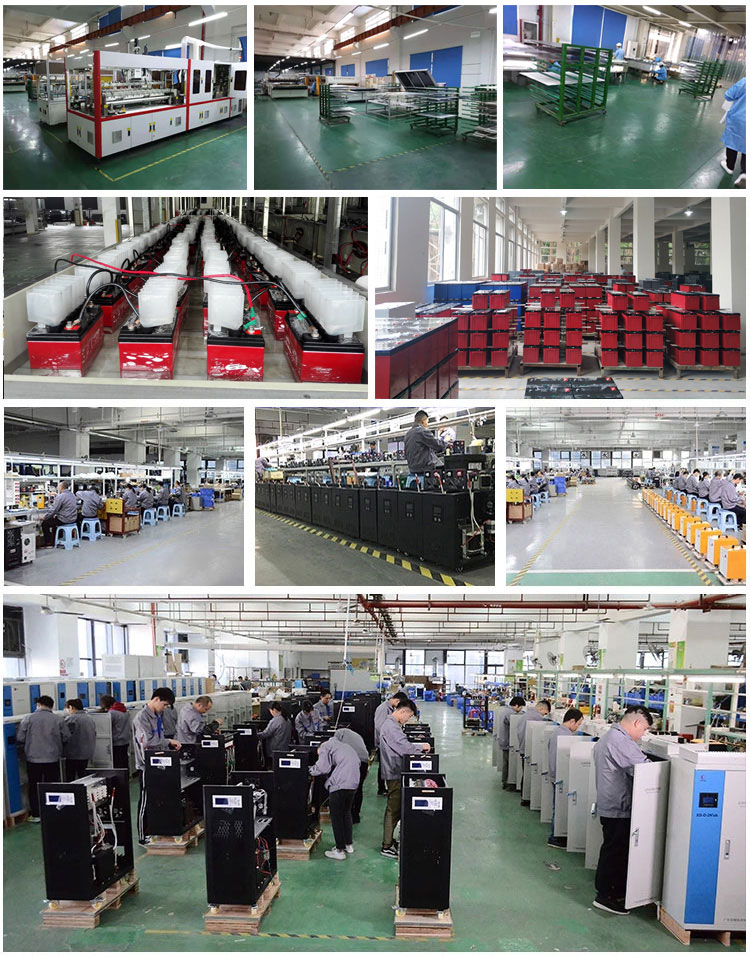 ■ Qualifications and Certificates
---

■ Global Solar Exhibitions
---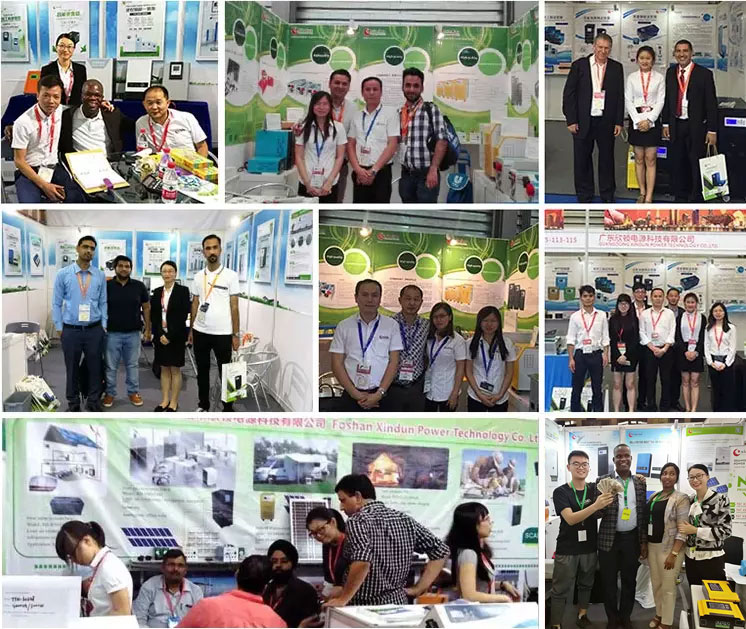 ■ FAQ
---
Q1: Are you a factory?
A: Yes, we are the top 10 power supply manufacturers in China, with over 10k square meters production area. We focus on solar system solution, inverters, solar charge controllers, solar generators and UPS power supply. We cooperate with some famous brands all over the world, can provide OEM/ODM production.

Q2: Is the residential solar systems solution always the same? Can I customize one?
A: We have professional teams making solar solutions for our clients. Solutions are mainly customized based on different sunshine time and power consumption. So each set residential solar systems may have different configuration. We\'d be happy to customize for you, contact XINDUN to know more details.

Q3: What is the price of residential solar systems?
A: Tell me your requirements, such as power generation demand, configuration, and whether there are other functional requirements. We will give you the most favorable ex factory price. residential solar systems factory direct sales, no middlemen earn price difference.

Q4: What is the lifetime of the residential solar systems?
A: Solar panel's lifetime are 20 years, solar inverters 3~5 years, solar charge controllers 3~5 years, batteries 1~3 years.

Q5: What services can XINDUN provide?
A: We will provide residential solar systems free site survey, design, production, installation guide, maintenance of one-stop service, value added services: market and product training services, 24 hours after-service consultancy just for you and to make your problem to solveeasily.