2022 Chinese New Year Holidays Notice
At the end of this year and the New Year is coming, we Xindun Power sincerely thank all new and old customers for their support and trust in our company! We will give back to our customers with better products and sincere service. Here, all employees of our company wish you all a happy new year, a happy family, good health and full wealth!
In order to better cooperate with your company\'s work arrangements, combined with our company\'s production situation, the arrangements for the Spring Festival of 2022 are as follows:
Holiday time: January 23 to February 8, 2022
Start time: February 9th formally go to work
Please make an order plan in advance, and communicate and coordinate with relevant personnel of our company.
Thank you for your support and cooperation!
Guangdong Xindun Power Technology Co., Ltd.
January 11, 2022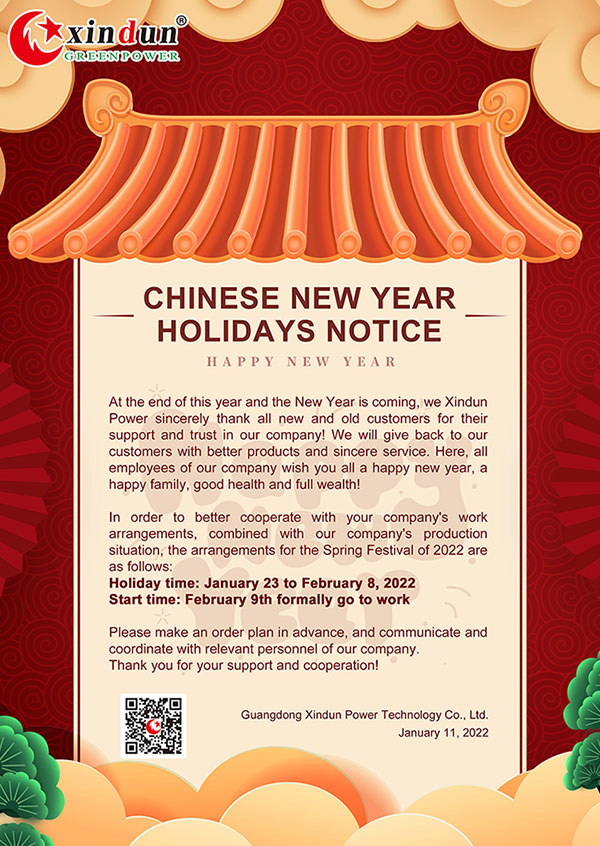 I am a 15-year manufacturer focus on power inverters, solar inverters, solar charge controllers, solar generators, solar power systems. More than 7000 square meters production area, over 100 workers. We can provide inverter OEM production for solar agents, power products agents, solar installers, solar engineering project service provirabia, South Africa, Ghana, Nigeria, Kenya, Spain, Italy, Germany, Colombia, Chile, Mexico, Peru, Panama, Philippines, Indonesia, Thailand, Myanmar, Pakistan...
In the new year, Xindun looks forward to cooperating with you to develop the solar power inverters market.