The photovoltaic off-grid system consists of solar modules, solar controllers, batteries (groups) and off-grid inverters. It is suitable for areas where there is no grid connection or where the grid power is unstable. The photovoltaic off-grid system is an independent solution that can be installed in most places and is easy to maintain, reliable, clean, and low-cost.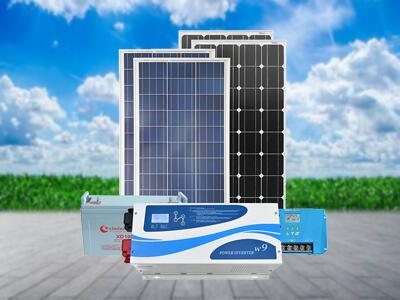 The main equipment of photovoltaic off-grid system is as follows:
1. Solar photovoltaic modules.
Convert solar energy into electricity, or send it to storage batteries for storage. It is an important part of the off-grid photovoltaic system. Irradiation characteristics and temperature characteristics are the two major factors that affect module performance.
2. Off-grid inverter.
The electricity converted by solar photovoltaic modules is direct current, and our daily load uses alternating current. The inverter is a device that converts direct current (DC) into alternating current (AC), which is composed of an inverter bridge, control logic, and filter circuit.
3. Solar controller.
The biggest purpose of the solar controller is to protect the battery, and then the anti-recoil protection, short circuit protection, overcharge and overdischarge protection, etc. In addition, it also has power regulation and communication functions. Solar controller is divided into PMW type and MPPT type.
4. Storage battery.
The storage battery is the energy storage device of the photovoltaic off-grid system. Its function is to store the electric energy converted by the solar modules and supply power to the load during the electricity consumption period.
5. Other equipment.
Xindun is mainly engaged in the production and sales of photovoltaic off-grid systems. If necessary, please contact us.