Have you ever wondered how much does a 5kw solar system produce?
The answer varies tremendously based on the geographic location and the amount of sunshine. On average, the capacity factor of solar is 24.5%. This means that solar panels will generate 24.5% of their potential output, assuming the sun shone perfectly brightly 24 hours a day.
Xindun high efficiency hybrid single phase solar power inverter of 5KW, the voltage of the system can be 96V which means the max power to the PV power is 11.2KW. So if 24.5% of it, the MAX daily energy we can get from the system will be 65.8KW within 24hours.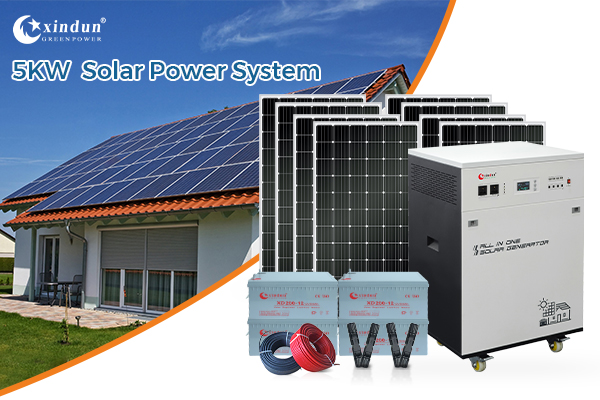 It is important to select a high-quality inverter to help you improve the power generation of the solar system, and make full use of solar energy without waste.
And our inverter is compatible with kinds of Gel battery or Lithium battery.The voltage and capacity from battery can be customized flexibly to make sure the user can have get the right serving backup hours to all the electrical appliances.
We manufacture kinds of solar power inverter with abundant power range 300w-160kw, off-grid, pure sine wave,remote monitoring,single phase, three phase,low frequency, high frequency, floor-standing,wall-mounted, MPPT or PWM solar controller inbuilt, or battery inbuilt, working mode with easily programmable priorities.
We,Xindun Power, can provide a complete solar power system solution with guarantee to each parts. And we have rapid growth with five branch office last three years. So you have choose our products and service, I will discharge my effort to help you win your market.