HOW IS AN OFF GRID SOLAR INVERTER DIFFERENT FROM A GRID-TIED INVERTER?
A grid-tied inverter takes DC power from solar panels, turns it into AC, and sends it into the grid for credit.
Grid-tied inverters are simpler and easier to wire since there are usually only two main components—the inverter itself and your solar panels. (Some grid-tied systems are starting to incorporate energy storage, but most of them have no batteries.)
But an off-grid inverter needs a battery bank to function.
As you can imagine, off-grid systems are more complicated, thanks to additional components like the charge controller, battery monitor, and additional AC and DC circuit breakers. All of these things tend to make off-grid systems more difficult to wire and install.
It can also be a challenge to buy off-grid equipment because there are a lot of associated accessories: remote controls, battery monitor, breakers and enclosures, surge suppressors, and so on.
Picking the right parts can be confusing enough—but there's no more critical decision than buying the right inverter.
HOW TO CHOOSE AN OFF GRID SOLAR INVERTER
Think About Size
The first thing to think about is how much power you need.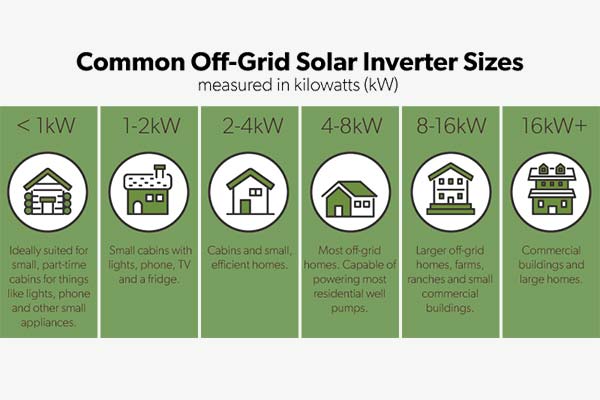 Fortunately, sizing off-grid inverters is straightforward if you know what appliances you're going to use.
Don't forget to consider the voltage—although most appliances run on 120Vac, some appliances, such as well pumps, require 240Vac.
Example
Let's say you need 1,000 watts for your fridge, 500 watts for lights, and 200 watts for your phone & TV. That adds up to 1,700 watts. In this case, we'd suggest a minimum inverter size of at least 2,000 watts to give you a little extra headroom. (After all, you may add appliances in the future.)
What's the most popular size we sell? 4kW followed by 8kW. Different models and brands are available in various sizes and most of them can be stacked together for higher power output.
Consider Pure Sine Wave Instead of Modified Sine Wave
You may hear some manufactures talk about pure sine wave inverters. You don't need to understand exactly how these work—it's enough to know that the power that's put out by a pure sine wave inverter is "cleaner" than what you'd get from a modified sine wave inverter.
Pure sine wave inverters deliver higher quality power output, similar to (or better than) our power grid. Modified sine wave inverters are cheaper, but they deliver lower-quality power output.
That's why we don't recommend modified sine wave inverters for most applications; most of our off-grid customers are use pure sine wave inverters to avoid these potential issues.
Need a quick way to tell the difference? Look at your inverter's total harmonic distortion (THD) rating. THD is an indicator of power quality output and will be listed on the spec sheet of any decent inverter.
Look at the Technical Specs
Here are some other technical specs to consider:
Efficiency. This is a measure of how much power from the batteries your inverter delivers to your home when it's operating in perfect conditions. A good peak efficiency rating is around 94% to 96%.
Self-consumption, or no-load current draw. How much power will your inverter consume just sitting there? Obviously you want this to be as low as possible.
Surge capacity. How much short-term overload can the inverter handle before it "trips?" Some appliances, like pumps or fridges, need as much as 2x–3x their running power to start up.
Battery charger output. Many off-grid inverters include a battery charger, which is used to recharge your batteries during the winter months with a backup generator. The battery charger will have a rating, usually measured in amps. Most decent off-grid inverters will have a battery charger in the range of 50-100 amps DC.
Temperature range. Inverters are sensitive to extreme heat. Pay careful attention to the temperature range if you plan on installing your system in your garage or anywhere it could be exposed to temperature extremes.
Warranty. Warranties start at 1 year and typically range from 3-5 years.
You can normally find information on all these features on the product spec sheets. Check with your solar tech for help comparing and picking the right inverter.