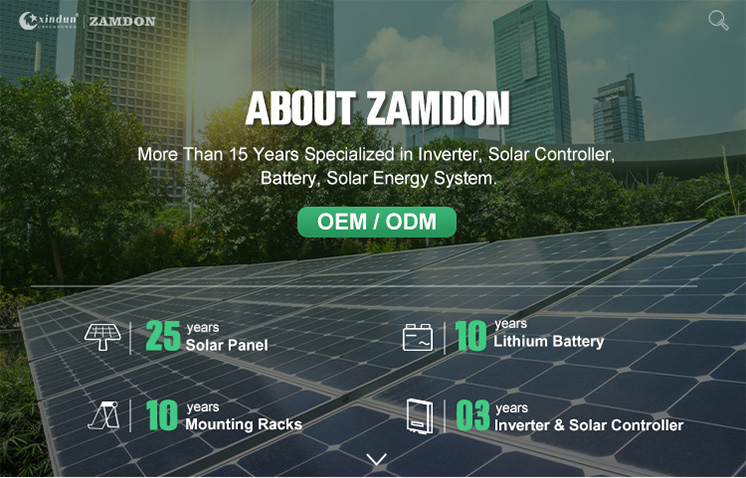 contact ZAMDON to get lithium ion battery price
■ Lithium Ion Solar Battery Feature
---
1 No maintenance, Save maintenance cost
2 High Capacity Ratio, Lighter Weight
3 Longer cycle life span
4 Wider temperature range
5 Lithium ion battery has interlligent BMS function, Detect the total voltage, total current, reserve power of battery
6 Alarm and control output for overvoltage, undervoltage, high temperature, low temperature, overcurrent, short circuit and other extreme conditions.
■ Lithium Ion Solar Battery Specification
---
Model

ZD-

LFP100

-12

ZD-

LFP150

-12

ZD-

LPF200

-12

Nominal Voltage(V)

12.8

12.8

12.8

Nominal Capacity(Ah)

100

150

200

Usable Capacity(Wh)

1280

1800

2400

Dimension(mm)

326*171*215

483*170*240

522*240*218

Weight(Kg)

13.5

25

30

Cycle Life

≥4000 @25℃

≥4000 @25℃

≥4000 @25℃

Working Temperature

℃

-10℃-60℃

-10℃-60℃

-10℃-60℃

Discharge Voltage (V)

12.8

12.8

12.8

Charge Voltage (V)

13.5~14.6

13.5~14.6

13.5~14.6

Internal Impedance

≥20

≥10

≥10

Charge/Discharge




Current (A)

Charge: 50

Charge: 40

Charge: 40

Discharge:50

Discharge:40

Discharge:40

Warranty(Years)

3

3

3
Lithium ion battery rechargeable specification
■ Lithium Ion Solar Battery Details
---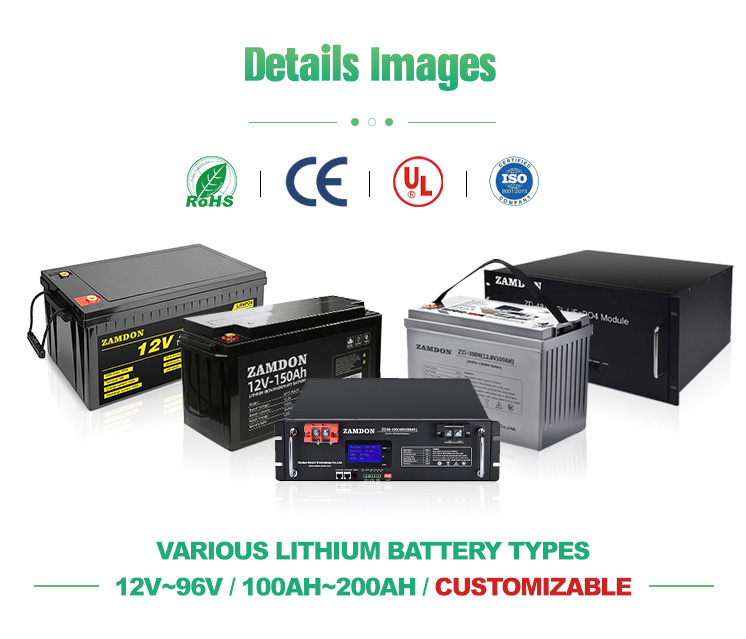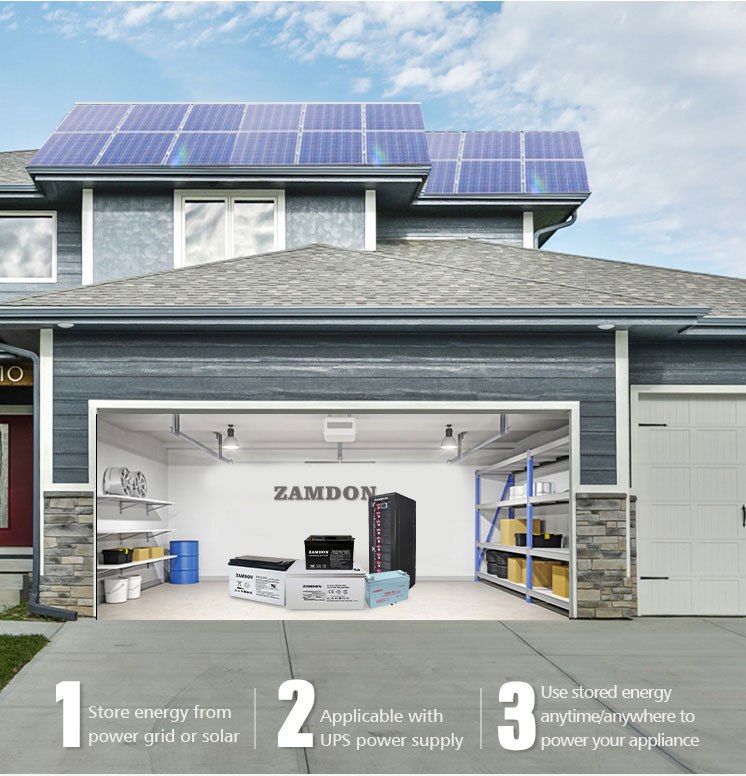 ■ Lithium Ion Solar Battery Installation
---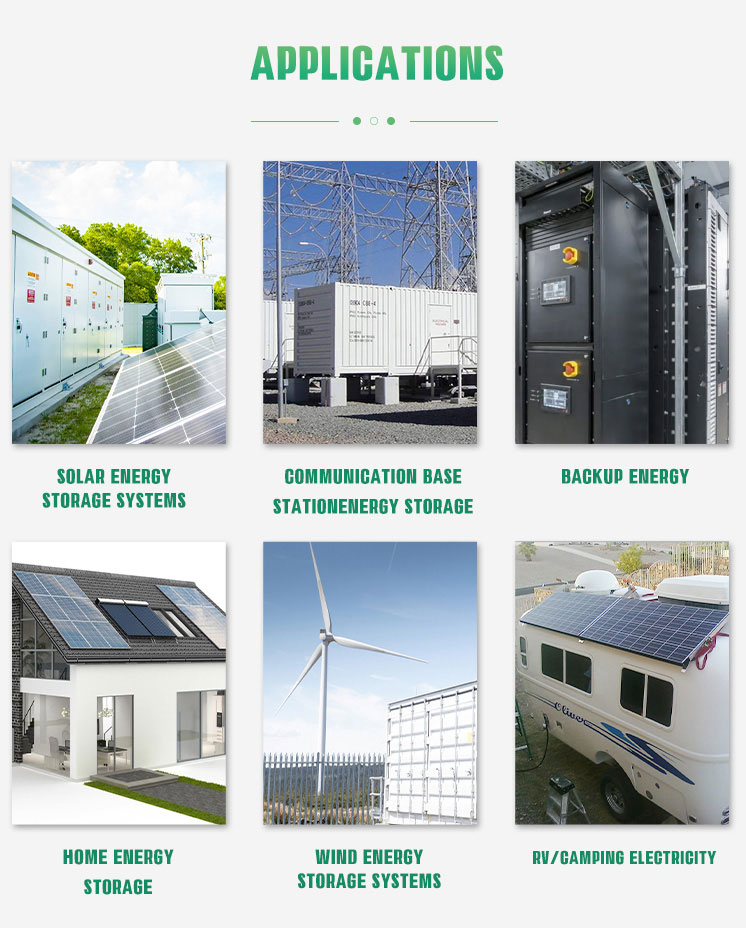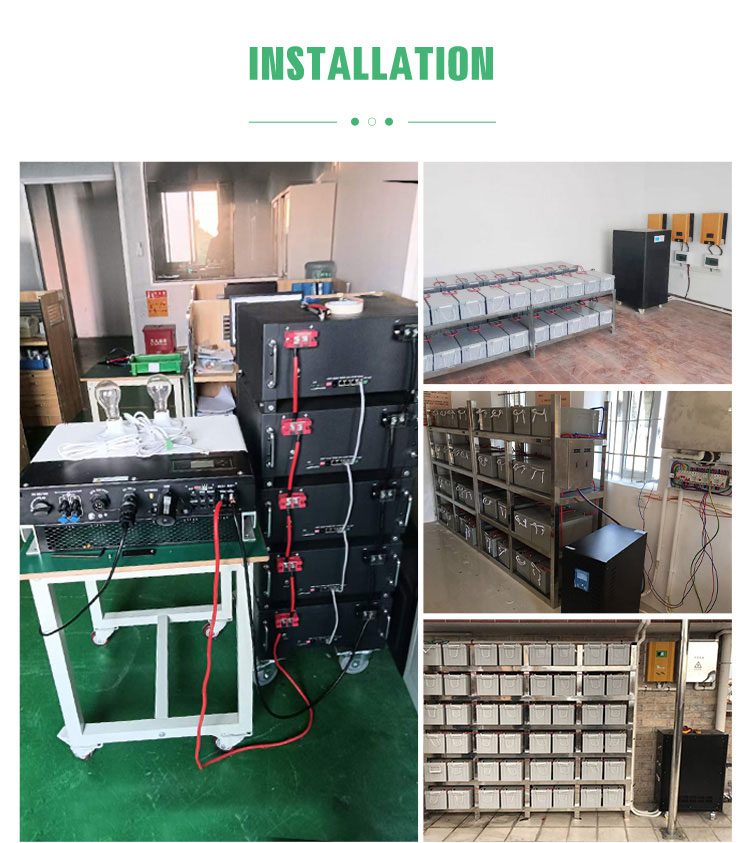 lithium ion battery installation cases
■ About Zamdon - Battery Supplier in China
---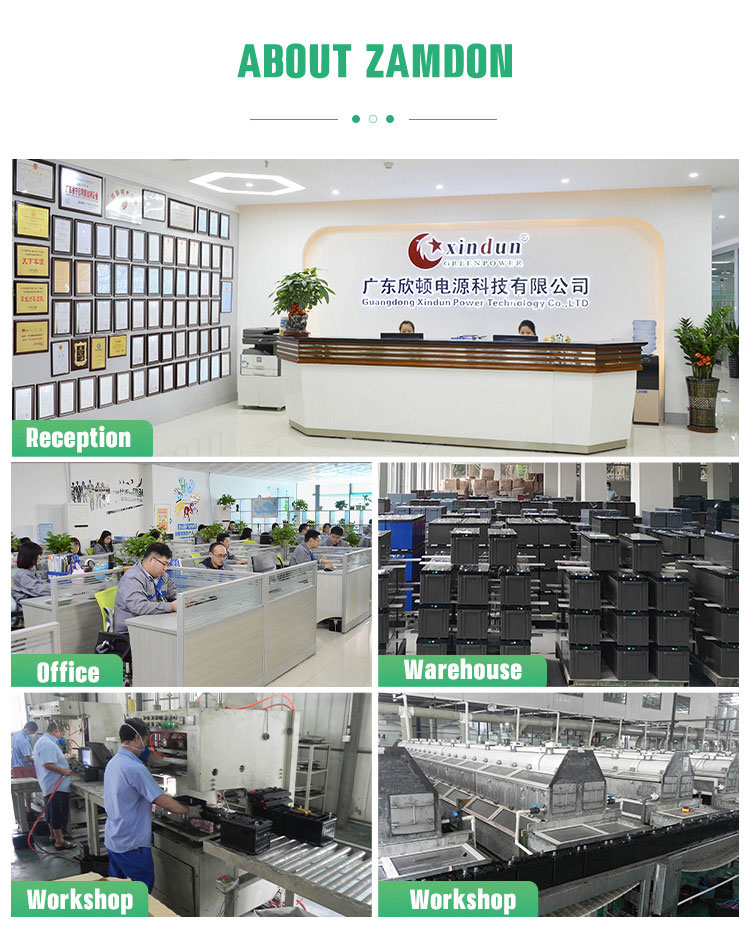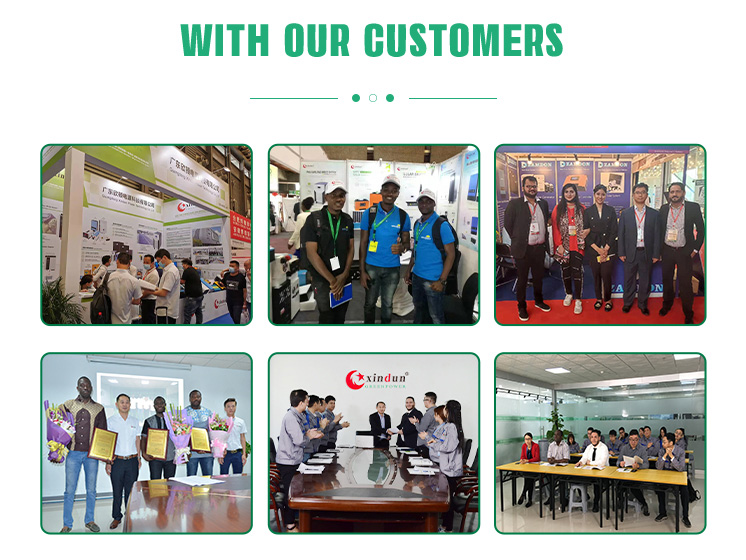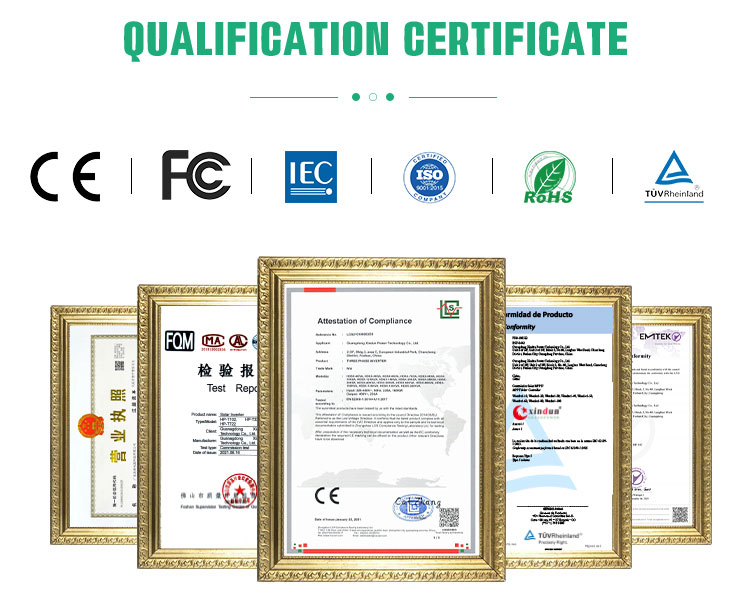 ■ FAQ
---
Q1. What is the differene between lithium ion battery and lead acid battery?
A: Taken altogether, lithium ion battery technology is better than lead acid battery because of its reliability and efficiency. However, for small off grid storage systems that are not often used, lead acid battery with lower prices can be selected.

Q2. How to confirm the high quality of the batteries you sent me?
B: Our batteries are all grade A, No matter how many you order, we will test each product before sending out.

Q3. How about your lithium ion batttery delivery time?
A: 3-20 workdays after receiving your advance payment. The specific delivery time depends on the items and the quantity of your order.

Q4. How about your battery warranty?
A: 5-10 years warranty for lithium ion battery.

Q5. Is lithium ion battery safe?
A: Passed the overcharge, over discharge, over temperature, short circuit, acupuncture and other safety tests, no fire, no explosion at any circumstance; ensure our customers benefit ;

Q6. Is it OK to print my logo on the battery?
A: Yes. Please inform us formally before our production and confirm the design firstly based on our sample.
Tag: lithium ion battery price, lithium ion battery rechargeable, solar battery