According to recent news reports, frequent power outages in Lebanon have made residents aware of the importance of installing solar systems. The solar energy market in Lebanon has great potential.
With the international decarbonization boom, in addition to many countries in Europe, the United States, and East Asia committed to renewable energy power generation and leading the world, several countries in Africa, Central Asia, and the Middle East are also increasingly in demand for this. The Republic of Lebanon is one of them, a country located on the eastern coast of the Mediterranean Sea that is also interested in solar energy storage.
Recently, Lebanon plans to conduct a bidding process for renewable energy projects, including the procurement of three 100 megawatt solar energy storage projects. This bidding process has clearly attracted many investors, as Lebanon has received 75 letters of intent. The solar energy market in Lebanon has great prospects for development.
But how do you choose the right commercial solar system in Lebanon? High quality commercial solar system in Lebanon should not only meet the customer's electricity demand, but also meet the customer's price budget range to maximize the customer's benefits. Therefore, when choosing the power of a commercial solar system in Lebanon, it is still necessary to optimize the design based on the actual needs of the customer.

The following 80kw solar system in Lebanon is developed, designed, and produced by XINDUN Power based on the specific needs of Lebanese customers.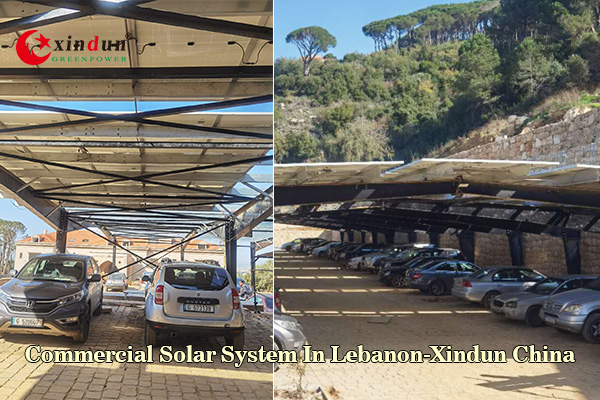 One of our customers in Lebanon is very interested in our XINDUN's commercial 80kw solar system.They want to use our commercial 80kw solar system for their office building. We checked what the client needs and sent our best solution with details to them.
We made the good quality products three phase 80KW solar system in Lebanon to the client.They installed the commercial 80kw solar system in Lebanon based on our drawing.We provide the technical support for them. It is perfect project. They use the 80kw commercial solar system to create about 346KWH for loads and store about 115 KWH in battery on average.
Our client is very satisfied with the commercial 80kw solar system and our after-sale services.
The configuration of commercial 80KW solar system in Lebanon as following,
1. 384V 80KW solar inverter 1PC
2. 384V 100A MPPT solar charge controller 2PCS
3. 120PCS 535W solar panels(15PCS connect in parallel for one group, 8 groups connect in parallel)
4. PV Combiner box 2 in 1 out,4PCS
5. 2V 300AH gel battery,192PCS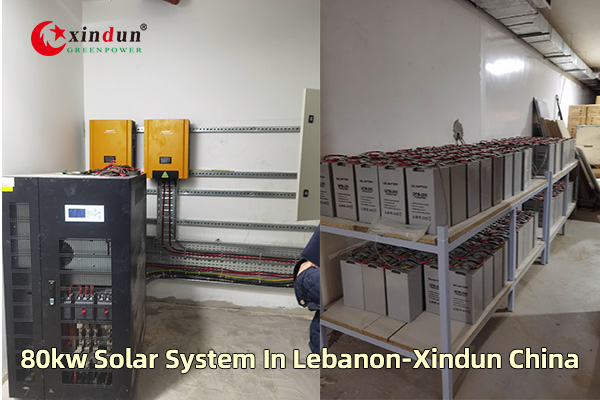 Renewable energy power generation will become an important way for more and more regions and countries to alleviate electricity conflicts, and the business opportunities contained therein are also enormous. If we seize this opportunity, many new energy enterprises will gain more profits in this market.
We are professional manufacturer of solar power products with more than 16 years experiences.We offer turnkey project services for our clients with our best quality and services. Welcome any inquiries ! We will try our best to serve you .

Xindun Power is a professional solar system manufacturer in China, and our products have been sold to more than 80 countries overseas. Because we have more than 16 years of experience in production, R&D, and design, we can customize solar inverters based on customers' solar systems, and can customize special voltage, power, appearance, and other requirements.
Xindun Power can provide 300w-160kw solar system configurations, which can be applied to home, industrial, agricultural, commercial, transportation, and other fields. We can provide high-quality commercial solar system to customers worldwide. Welcome to contact Xindun Power for professional technology and preferential prices.