We are a Chinese solar inverter manufacturer. When you import a 100kw solar inverter from us to Bangladesh, you can firstly solve the 24h electricity demand well, and then our 100kw solar inverters are all using the most advanced technology, no matter from Both function and quality are guaranteed. In the end, we are an solar inverter manufacturer rather than a distributor, Our price is very cheap, which may be cheaper than the 100kw solar inverter price in the local market of Bangladesh.
Before talking about what is 100kw hybrid solar inverter price in bangladesh, Let\'s first introduce you to the 100kw hybrid solar inverter feature in our factory.
How about 100kw hybrid solar inverter in our factory ?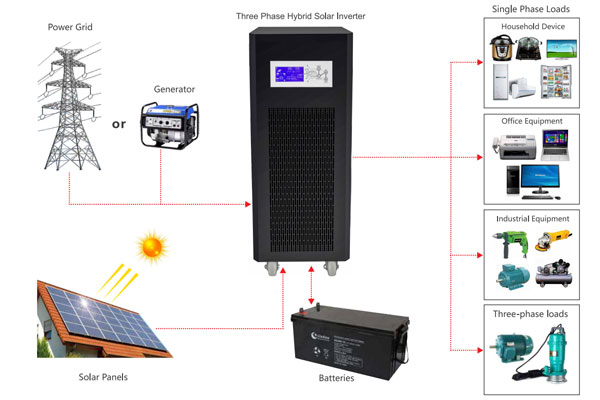 The 100kw hybrid solar inverter in our factory is a three-phase hybrid inverter. It has many advantages, such as:
1. Pure sine wave output.
2. Low DC voltage, saving system cost.
3. Built-in PWM or MPPT charge controller.
4. AC charge current 0-45A adjustable.
5. Wide LCD screen, clearly and precisely shows icon data.
6. 100% imbalance loading design, 3 times peak power.
7. Setting different working modes based on variable usage requirements.
8. Various communication ports and Remote monitoring RS485/APP(WIFI/GPRS) (Optional)
Beyond that. It has a wide range of applications, such as Medium IDC data exchange center machine room, medium scale network management system, billing center , bank/securities settlement center, industrial process control applications , traffic control areas etc. And provide stable, reliable and safe solutions for families, islands, ships and other small photovoltaic power systems.
We are an inverter manufacturer, not a distributor, so the 100kw hybrid solar inverter price are very favorable. The 100kw hybrid solar inverter price in bangladesh is about EXW Foshan price USD 10209~11230. The more you buy, the cheaper the price. Please contact us to get discount.

If you want to get more information about "What is 100kw hybrid solar inverter price in bangladesh" or want to get more information about our 100kw hybrid solar inverter , Please feel free to contact us.
Website: https://www.xindun-power.com/