What is the best battery for solar panel system? This is really a good question. Usually solar panel system was divided into two types, one is single phase and another one is three phase. Due to their different application scenarios, this also leads to their different battery requirements. At present, there are three main types of batteries used in solar panel systems on the market:lead acid AGM battery, gel battery and lithium battery.
Let me introduce the advantages and disadvantages of each battery as following,and you can choose the best battery for solar panel system.
1)Lead acid AGM battery-battery for solar panel system
Due to its low price, it is currently the most widely used battery in solar panel systems.But the service life is relatively short. So if you want to install solar panel system for you home and its power less than 8KW. We suppose the lead acid battery is your good choice. It is also the most cost-effective battery for solar panel system.
Moreover, lead acid battery is a relatively mature battery with a long time to complete technical production and manufacturing, and has stable performance, reliability and good applicability. The characteristics of the electrolyte of the battery make the lead acid battery non-flammable. In addition, the battery is designed with normal pressure and low pressure, and the safety is good. It is applicable to UPS, new energy storage, power grid peak shaving and valley filling and other fields. Lead acid batteries also have recycling value. The regeneration technology is mature and the recycling value is high.
2)Gel battery-battery for solar panel system
Compared with lead acid batteries, its service life and depth of discharge are relatively high. Generally, when you need to install the power more than 8KW single phase solar panel system or three phase solar panel system, the gel battery is better for you. But it's also a bit more expensive than lead acid batteries.
The gel battery uses aluminum plastic film as the shell. When organic electrolyte is used inside, the liquid will not explode even if it is very hot. Under the influence of external force, it will smoke at most and will not explode.
Moreover, gel battery can be very thin and arbitrarily shaped due to the advantages of natural materials, because its electrolyte can be solid and colloidal rather than liquid.
3)Lithium battery-battery for solar panel system
Lithium batteries are the best in terms of battery performance and application scenarios.Lithium battery is the best of the three batteries in terms of cycle life, safety performance, energy density and low temperature performance. But the price is the highest among from three type batteries. So pls consider your budget when you need lithium batteries for your solar panel system.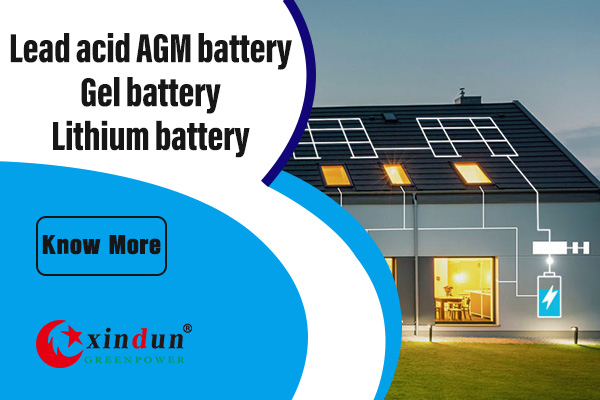 In summary, it is hard to say what is the best battery for solar panel system. The battery that fits your solar panel system is the best battery, such as your budget, application scenarios, the power of solar panel system and so on.
Xindun Power have provided and designed solar panel systems for global customers for more than 16 years. Solar panel system includes solar panels, solar controllers, batteries, solar inverters, brackets, cables, etc. If you have a demand for solar panel system or want to get more about the best battery for solar panel system, please contact Xindun for more details. We will design the best solution for solar panel system according to your actual use.