How to choose solar inverter manufacturer OEM?
In order to select a strong solar inverter manufacturer, we need to consider the following advantages: strong production capacity, high quality assurance, leading R&D and design team, and perfect after-sales service system.
Guangdong Xindun Power solar inverter manufacturer was found in 2007,Head office is located in Foshan,Guangdong province,China.We are the solar inverter manufacturer specializing in the design,producing and sales of solar inverter oem, solar power system,which including solar inverter,solar controller,battery,solar panel etc.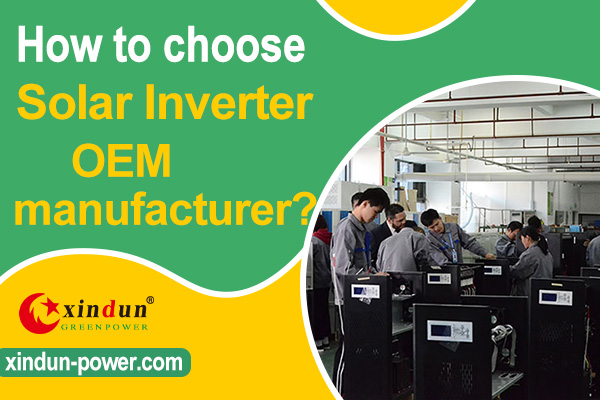 Xindun Power solar inverter manufacturer has strong advantages in the above mentioned aspects:
1)strong production capacity
Look at the scale of the manufacturer to see the comprehensive strength of a solar inverter manufacturer.
We own more than10000 square meters of standard production plants and advanced R&D,testing and production equipment.
▷Modern factory covers an area of 10000 square meters, and more than 300 production workers
▷More than 30 standard solar inverter oem production lines and related advanced inverter test equipment
▷More than 16 years of advanced pure sine wave solar inverter oem production experience
▷200,000pcs solar inverter oem monthly production capacity
▷$20.million annual output value.The main markets of solar inverter oem are Africa, the Middle East, Asia and South America. (Ukraine, Russia, Vietnam, Pakistan, Nigeria, Kenya, South Africa, Ghana, Thailand, Philippines, etc.)
2)High quality assurance
▷Solar inverter oem has passed ISO9001: 2015 international quality management system certification
▷It has passed the CE, IEC, TUV, TLC, CCC and other professional testing certification
▷More than 30 national patent technologies of solar inverter oem have been obtained
▷30000 hours of trouble-free operation
▷Experienced QC charge of every step of production 24 hours simulation run before delivery.
3)Leading solar inverter oem R&D team
Look at the R&D strength of solar inverter manufacturers,which can meet market demands and at the same time be able to control market trends and gain insight into market trends. Develop differentiated products that are more attractive.
▷Our solar inverter oem engineers have more than 13 years of experience in developing and designing inverters
▷More than 50 solar inverter oem R&D technicians
4)Perfect solar inverter oem service system
Looking at the after-sales service of the OEM solar inverter manufacturer. The perfect after-sales service can solve many follow-up problems. Reaching cooperation with suitable solar inverter manufacturer can not only take advantage of the situation for marketing, but also provide after-sales guarantee.
▷The number of global solar inverter oem customers has exceeded 10000+
▷Solar inverter oem production and design experience has exceeded 16 years
▷30+ oversea warehouses in Nigeria, Kenya, Senegal, Pakistan, Indonesia, Philippines.etc.
▷Provide solar inverter oem knowledge training and sales courses to help you sell better
▷Provide solar inverter oem installation guidance and after-sales maintenance
▷Senior inverter industry experts keep in touch with customers and provide technical service support
▷Share solar inverter oem technology innovation and latest industry information to customers.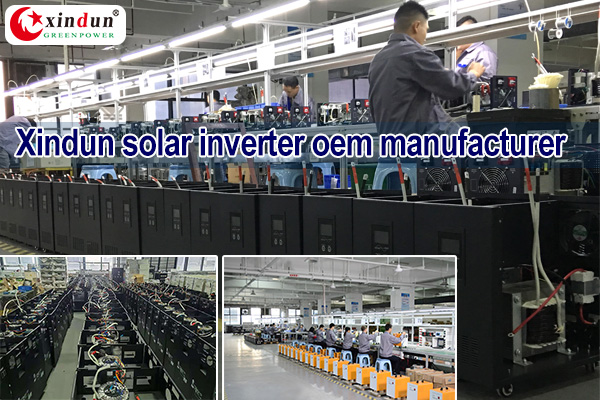 To sum up, it is a correct decision to choose Xindun Power as your solar inverter manufacturer. We can provide solar inverter oem services to customers all over the world. Welcome to become the dealer, agent or retailer of our Xindun inverter brand.