Many traders have decided to expand the solar inverter market, but they do not know what key factors to pay attention to when selecting solar inverter factory.
Xindun Power Solar Inverter Factory can provide high-quality solar inverters. Our solar inverters have specific key functions, which will expand the user experience and enable customers to obtain sufficient power from the solar system.
When selecting a solar inverter factory, you must consider the characteristics and specifications of the solar inverter from different perspectives. This process allows you to select the best solar inverter for your customer's solar system.
What are the advantages of Xindun Power Solar Inverter Factory that you can trust?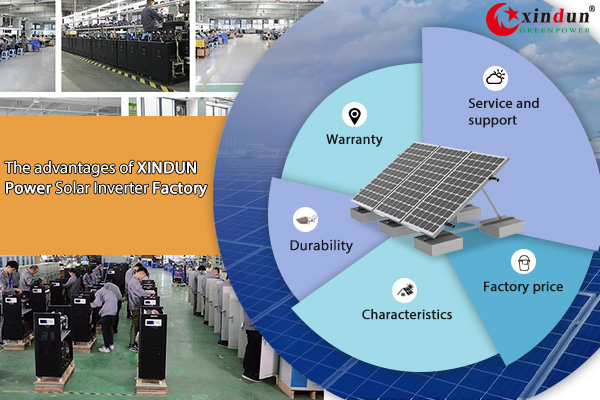 -Durability of solar inverter
A solar system can work for more than 20 years. You need a durable solar inverter. Xindun's solar inverter factory's inverter has high-quality design and durable materials. The solar inverter is designed with special micro-processing chip, which makes the equipment run faster and more stable; Perfect all-round automatic protection function and perfect fault code query function, stable and reliable performance; Xindun's solar inverter has overload, overheat and short circuit protection functions, safe and reliable; Moreover, it is a pure sine wave output, and EI transformer is adopted, with strong impact resistance.
-Characteristics of solar inverter
Before the final selection, you can compare the characteristics of the solar inverter. It is best to check the solar inverters from different solar inverter factory to understand who can provide the best functions for your customers.
These functions should meet the needs of your customers and be compatible with the solar system. Do not buy solar inverters that have many functions but cannot convert the power required by your customers. Xindun Power Solar Inverter Factory can customize the inverter according to the actual needs of customers. We can design the solar inverter drawings for free, and our solar inverter factory can customize other additional functions such as special voltage, special power and appearance.
-Service and support of solar inverter factory
As we mentioned earlier, you will use solar inverters for a long time. Xindun Power Solar Inverter Factory includes official warranty and after-sales service. We can ensure that your customers can obtain reliable and trustworthy services in case of any difficulties.
-Solar inverter factory price
This is the most critical part when selecting high-quality solar inverters for your customers' solar systems. You must analyze the market prices and characteristics of different solar inverters. You can search and visit local markets on the Internet to compare prices and functions. Xindun Power Solar Inverter Factory can provide a more affordable price than most solar inverter factories on the market, while ensuring the high quality of the finished products. Please contact our sales to consult the quotation list.
-Solar inverter factory warranty
Some solar inverter factories will provide a shorter warranty period, while others will provide a longer warranty period. We should always choose the solar inverter factory with a longer warranty period. This will give your solar inverter a longer service life and make customers fully understand its functions. If there is any problem with the solar inverter produced and designed by Xindun Power Solar Inverter Factory, you can easily replace or refund it.
If you don't do your homework, choosing a solar inverter factory to top-up your product range,it can be a very long and costly process. It can take years of trial and error before you can find the right solar inverter factory.
Xindun Power is a solar inverter factory which is reputable in the industry and manufacturing quality products for recognizable brands.
We're an experienced technical team with more than 30 senior engineers, and most of them have been engaged in the power industry for more than 16 years. Moreover, we have 10,000 Sq.M. standard production plants with advanced R&D, testing and production facilities. Xindun solar inverter factory, a team of more than 200 people, carry out strict quality control, and we are committed to providing customers with high quality solar inverter.
Xindun solar inverter factory has successfully passed ISO9001:2015 international quality management system certification, and strictly in accordance with the standard management. We also have CE, IEC, CCC and other professional testing and certificates to our solar inverters range, and obtained a number of national patent technologies.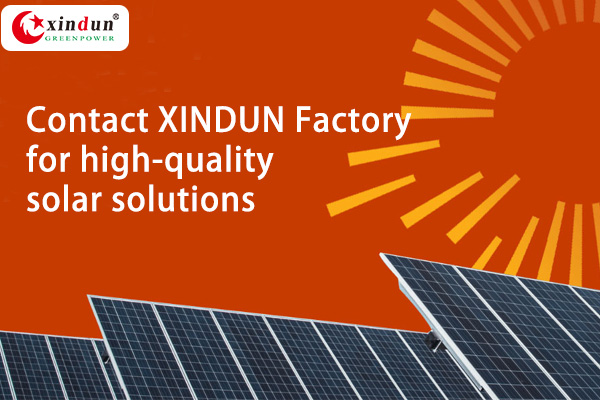 So Xindun solar inverter factory is the right one to all customers, no matter big or smaller order quantity they have for us, cuz we can always provide the right solution about the power supply with the most fair and competitive price.
If you need our service(Xindun solar inverter factory), welcome to drop us your plan or message.