Consumers can find a variety of complete solar power systems on the market, and the prices are high and low. So what price complete solar power system is right for you? A complete solar power system includes a solar inverter, solar panels, batteries, solar charge controllers, and other necessary accessories. Now let's take an example of our company's 100KVA three-phase solar power system.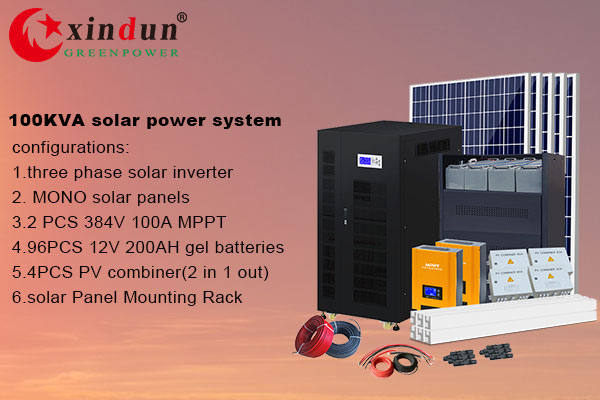 100KVA solar power system configurations:
1.A 100KVA(80KW) three phase solar inverter
2.128PCS 380W MONO solar panels
3.2 PCS 384V 100A MPPT solar charge controllers
4.96PCS 12V 200AH gel batteries
5.4PCS PV combiner(2 in 1 out)
6.A set of solar Panel Mounting Rack
7.Other necessary accessories, such as cables,MC4 Connector etc.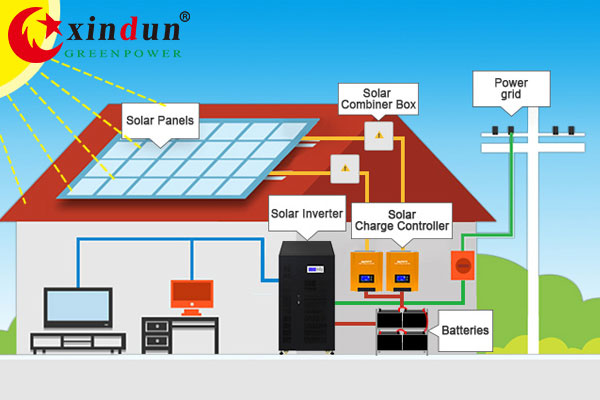 From the above configuration, you can find that the complete solar power system of the same power can have different configurations. Under normal circumstances, the complete solar power system is customized according to your actual use. The number and power of each part can be increased or decreased according to your requirements, such as batteries, solar panels, solar charge controllers etc.
So it is hard to say how much is a complete 100KVA solar power system. The price depends on the configuration you required.

Xindun Power specialized in complete solar power system with 300W-160KW over 10 year. If you need complete solar power systems or If you want to know more information about "How much is a complete 100KVA solar power system" . please contact us for further details. We will provide the best suitable solution for you.