As we all know, inverter is design to convert DC into AC. Notably to utilize panels creating power energy, it needs to go through a solar inverter for sure.
And both solar inverter and hybrid inverter are widely used in PV solar energy into electric energy. And even partial hybrid inverter are able to use combined of solar and wind, or combined off grid and grid tie.
What we are talking about in a broad sense of solar inverter is not just one type of inverter. It is no easy to literally explain its use, due to the scope of their use exist discrepancy, such as functions, structure, technology, even exterior design.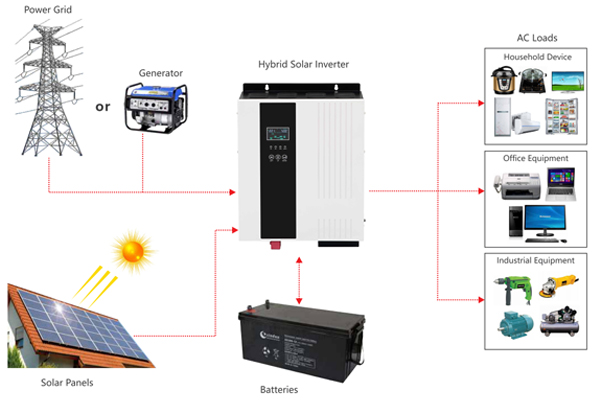 For instance, solar inverter can be a pure sine wave inverter / modified sine wave inverter, off grid solar inverter or grid tie solar inverter, single phase solar inverter or 3 phase solar inverter, and so on.
Therefore, we can simply understand it as an inverter is accessed for PV solar system, which is a solar inverter.
And in the usage habits of most areas. A solar inverter is more often referred to as battery backup inverter or battery-base inverter, that the electrical energy which converted from PV solar energy is stored by batteries pack. After that, all electrical energy is supplied from battery terminal to the AC/DC loads by connected inverter.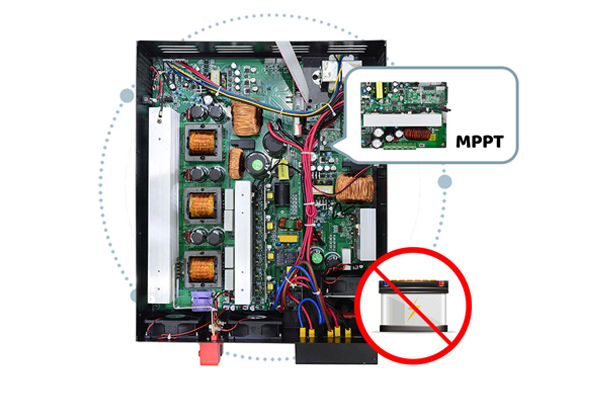 Say in other words, a battery solar inverter is to shifting the energy charge from the charger to your loads or your grid. And most part of battery backup inverters able to supply alternating current power in the case of a power interruption or outage.
And hybrid inverter is an upgrade based on solar inverter. It contains the function of a solar inverter, convert DC into AC, also adds a built-in solar controller such MPPT or PWM type. Hence, precisely speaking, hybrid inverter is a solar inverter with inbuilt charge controller. Also it can be a combine of off grid and grid tie inverter in one machine with same description as you called hybrid inverter.