Solar inverter is a device that converts Direct Current (DC) electricity generated from solar panels to Alternate Current (AC) and distributes it across a 3 phase power supply.
So,
Which solar inverter can power 3 phase?
The most common single phase power has two wires (usually contained in one cable) connecting from the local transformer to your home -an active and a neutral. The power supplied through the active cable is 240V which is standard for all household appliances.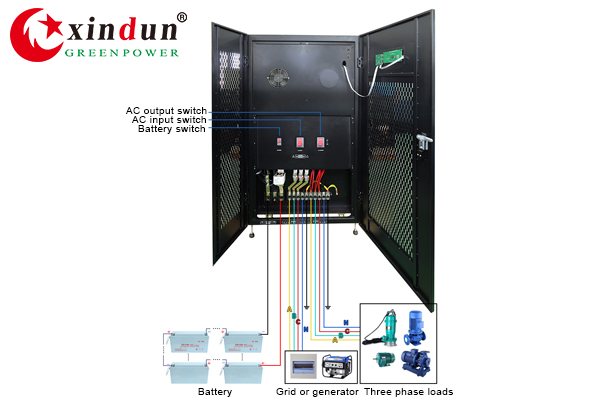 solar inverter 3 phase power has 4 wires -3 actives and a neutral. It can supply power at the standard 240V and at 415V for appliances that require greater power like some air conditioners. A 3 phase connection effectively triples the power available as appliances can be split across each of the 3 phases.
Almost all commercial premises have a 3-phase connection. And our HDSX series , solar inverter 3 phase is mainly applied for business solution. With low battery voltage input, 3 inputs and 3 outputs, and supporting 3 phase unbalanced load, triple peak power, pure sine wave output, more important,ultra-wide input voltage immunity range making it adapt to kinds of harsh grid environment, our machines have earned so many good reputation from our customers.
If you want to get more information about"Which solar inverter can power 3 pahse", Please do not hesitate to contact us.https://www.xindun-power.com/