Have selected your solar panels already? And the next is sift the most suitable inverter through providers. What is the best inverter for solar panels? The inverter is the device that turns power from the solar panels into usable energy for your loads, which convert DC into AC from PV via inverter. It's usually the most complex part of solar system and core one. Therefore, to avoid frequent failures of your system, here will guide you how to opt a best inverter.
Actually, It's easy to select the best inverter for solar panels
First of all, inverter can be roughly divided into off-grid inverters and grid-connected inverters. Here is the basis to help you choose the correct inverter according to application site requirements and inverter type you prefer.
Off-grid inverters are designed to work alone and cannot be synchronized with the grid. And off-grid is usually configured with batteries for use.
Grid-tied inverters are designed to be connected to your home to supplement mains power. You can send surplus electricity to your city grid.
So,
what is the best inverter for solar panels?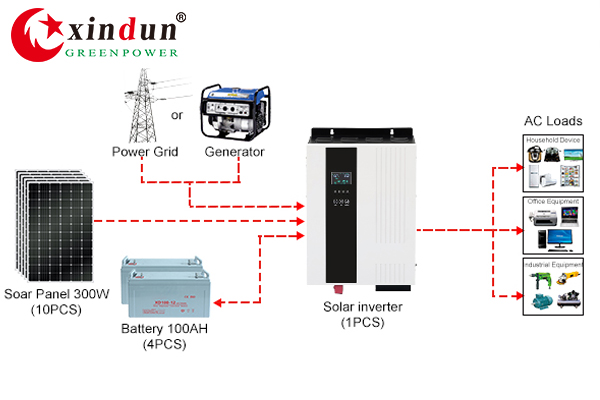 As per the total power of your solar panels and its average daily/monthly power consumption, you can figure out specific inverter power wattage and size.
For instance, let's say your solar panels is 3000W, then your inverter power wattage ought to be no less than 3000W. Meanwhile, if there is any inductive loads or impact loads involved your load type, it is necessary to choose a margin power range, you may consider 4000W or 5000W to provide larger surge protection and startup power.As for size of inverters will also vary from its rated power range. You can opt a wall-mounted or floor-mounted inverter base on your need, notably a hybrid inverter with inbuilt MPPT charger controller will be better choice.
In addition, you could get know working performance of the inverters before decide to purchase. The descripiton of conversion efficiency of similar inverters even may also has discrepancy. From our sales experiences, Xindun recommend you to choose more stable and higher efficient pure sine wave inverter, which conversion rate up to 93%, and this concise wall-mounted supports built-in MPPT controller with high efficiency, which suit for your home, residential, office, shop occasion. Plus, it offers real-time data monitor LCD display and PV input current, input voltage automatic recognition function.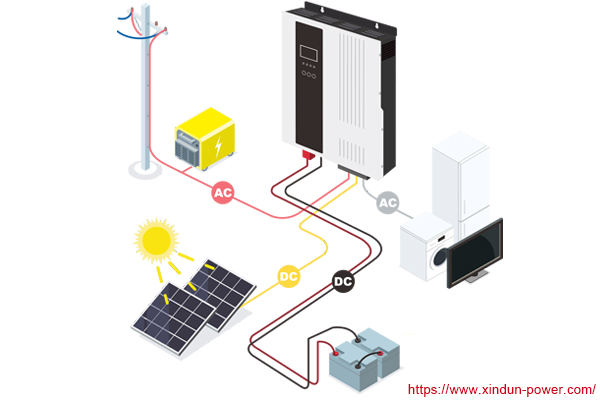 And further taking into account the safety usage. It requires you to choose a real manufacturer, with standardized production process, brand guarantee and excellent after-sales technical supports. At the same time, the price of inverters that directly provided by manufacturers company will definitely advantageous, and not to mention quality control.

Xindun has 14 years experiences in research and development inverters and ups products. Now it provides a series of inverters and integrated solar power solutions. If you are still hesitating about how to choose the appropriate configuration and inverter type, please feel free to contact our customer service staff for further details. If you want to get more information about "what is the best inverter for solar panels?", please do not hesitate to contact us.